Manchester City have left the US after a fantastic week preparing for the new campaign and returned to England ahead of this weekend's Community Shield.
Club journalist Rob Pollard travelled with the team to Houston and Green Bay and, here, he records his diary from throughout the tour...
Pre-season is always an interesting time. Everyone is well rested after a summer break and the players are focused on returning to full fitness and being in the best condition possible for the return of competitive football.
More often than not, there are changes, too, and this summer has seen more transfer activity than usual at City.
A week in the US was a great chance for the new players to bond with their team-mates and get up to speed with the demands of Pep Guardiola and his backroom staff. 
Houston 
Saturday 16 July 
The players and staff arrived on Saturday, and the first thing to hit us all was the heat and humidity, with temperatures reaching 42 degrees during our time in Houston.  
It was immediately noticeable that the mood among the players was very good. Over the past few seasons, this squad, led by Guardiola, has become very close. And not just the players, all the backroom team, too.
They clearly enjoy each other's company and there are no cliques or egos, just a desire to work together and achieve success. Our four Premier League titles in five seasons is testament to that ethos.  
Guardiola said numerous times during our time in the US that the team spirit and togetherness – the respect that runs throughout the entire setup - has been the most important factor in the success we have had over the past five seasons. This bond became increasingly clear during our time on US soil. 
After arriving and settling into their rooms, the players enjoyed an evening meal prepared by club chefs (diet and nutrition are of the utmost importance) before an early night ahead of their first stateside training session the following morning.
Sunday 17 July 
The squad departed for Houston Sports Park and the session was excellent. Erling Haaland's finishing was really impressive and the general tempo, despite the humidity, was good. The players all jumped in ice baths afterwards to cool down and help their muscles recover, before making the short journey back to the hotel.
But football isn't the only focus when City travel abroad.
Football clubs engage in pre-season tours for commercial, as well as sporting, endeavours, and the players had a two-hour appearance window in the afternoon to engage in various media activities.
This included a Texan-style grill off and a project that saw the Club's community coaches deliver free, inclusive football clinics to more than 30 young people from Special Olympics in Houston.
Seven players attended that and were all brilliant - but a special mention to Riyad Mahrez who led the session and was amazing with the kids. 
I went along to the NASA Lyndon B. Johnson Space Centre with Haaland, Kyle Walker, Ederson and Jack Grealish where the shoot for the new away kit launch was happening.
I was taken aback by the scale and ambition of the project. PUMA have been a fantastic partner, and they always want to do something special to mark the launch of a new kit.
"Maybe before we would have taken the players to a location, we would have had one photographer, we'd have taken some images, and it would have been great," says Serena Gosling, City's Director of Retail and Licensing.
"We wouldn't have managed to close off some of NASA. We wouldn't have a production team of people 20 strong."
The shoot was done with military precision. Each station was set up in advance and the players were done inside 45 minutes. It was incredible to observe. 
"NASA is something that is really well understood globally - it has a strong brand, if I can call it that, in its own right," says Gosling. "It was reachable, it wasn't too far away, and I think visually, the images that we got there are genuinely iconic."
After the players and I left, Guardiola arrived to do his shots, which really made the video special. Everything was then edited and prepared for launch two days later. 
Monday 18 July 
The squad trained twice on Monday - once in the morning and once in the evening - as Guardiola and his staff endeavour to get fitness levels right ahead of the new season. 
Later that day, I sat down with Joao Cancelo to discuss him being handed the No. 7 shirt for the new season. Joao is not just a great player, he's also a very polite and kind person. He was visibly excited when I handed him two shirts with his new number on them. 
Tuesday 19 July 
The second player appearance window took place on Tuesday, but for me it was time to sit down with Pep to discuss his time at City and look forward to the new season.
That interview will be published soon on our official channels, so I won't give too much away, but to sit and reflect on what has been a hugely successful six years as manager of this great club was really illuminating.
He absolutely loves Manchester City and his dedication to ensuring we continue to be successful is inspiring. He spoke at length about what this job means to him and how humbled he is by the support he receives. Keep an eye out for that one.
In the afternoon, our pre-match press conference and open training session took place at the PNC Stadium – home of MLS side Houston Dynamo and their women's team Houston Dash.
The pitch was immaculate, just like the ones at the CFA and the Etihad Stadium, and because it started around 18:00 local time the temperature wasn't too oppressive.
There was a really good tempo to the session and the fans from Official Supporters Clubs (OSC) who were specially invited got to see their heroes up close. The highlight, for me, was Nathan Ake's powerful half-volley that crashed in off the underside of the bar. What a finish that was.
Guardiola and Kyle Walker then faced the media at the press conference, and both seemed genuinely excited for our first game of the tour. 
The night ended in somewhat sad circumstances.
Oleksandr Zinchenko was close to agreeing a deal to leave City for Arsenal. He had a flight booked early the following morning to join the Gunners at their pre-season training camp in Florida, so we sat down for his final interview in readiness of the move being confirmed. 
It was a sombre interview. Zinchenko is a brilliant man, incredibly well liked by players and staff. He has loved his time at City and has become a fan favourite. Having just said goodbye to the players, he went around the room after the interview was complete and hugged everyone. It was incredibly emotional. 
The deal would be announced just before we boarded the plane for Green Bay three days later. 
Wednesday 20 July 
It was easy to forget with everything that had happened that we had a game to play on the Wednesday. And not just any game.
The Club America match at the NRG Stadium was a very special occasion. It reminded me of the game against Yokohama in 2019: the stadium was huge, the atmosphere was amazing and the quality of the match was excellent.
Pep said afterwards how good it was to see so many City shirts there on a night that really hammered home to me this Club's significant growth, with our success over the past 11 years really beginning to tell.
There were more than 61,000 people there and the passion they showed couldn't be faulted. It's clear our US fans love the Club and deep affinity is developing.
City played some quality football and won 2-1, with the way we moved the ball a joy at times. I spoke to one of the kit men afterwards and he said the way we played, particularly in the first half, was a reminder, after a couple of months away, of what a brilliant side we are.
Kevin De Bruyne was the standout player, scoring two excellent goals and generally being the catalyst for our best moments with his driving runs and passing ability. He is the finest midfielder in world football and it's a privilege for every City fan to be able to watch him play week in, week out.
After the game, Pep invited all staff to join the first-team squad for a dinner at a seafood restaurant near the hotel. Just another example of the togetherness our manager encourages. 
Thursday 21 July 
Our final full day in Houston was Thursday, with the players and staff given some downtime to rest and enjoy the city.
One of our US-based staff, Miles Gardiner, managed to organise a private tour of NASA for anyone who wanted to go and it turned out to be something I'll never forget.
Rodrigo, Ruben Dias, Bernardo Silva, Nathan Ake and Stefan Ortega Moreno came with us and were totally absorbed in it all and taking plenty of pictures, which was great to see. 
We started in the old Mission Control Centre, where the final 20 minutes leading up to the 1969 moon landing were recreated, complete with the actual audio from the night, before moving on to the new Mission Control Centre to discuss how things work now. NASA staff then took us to a separate building, where we were given lectures on the Orion and Artemis projects. 
It was also Haaland's birthday, and the squad singing Happy Birthday and presenting a beautiful cake to our new striker in the evening reinforced the togetherness I outlined at the very start of this diary. Our Norwegian has been made to feel immediately welcome. 
It was a brilliant few days in Houston. Tour is a demanding environment for the staff who travel, but it went really smoothly. The players looked sharp and focused, we managed to secure a win on a fine night at a packed stadium and the manager is definitely ready for the challenge of a new season.
Next stop: Green Bay
Green Bay
Friday 22 July
Friday was a somewhat manic day. We departed Houston at midday and landed in Green Bay at 14:35.
I immediately boarded a coach to Lambeau Field to assess the layout of the stadium in preparation for the game (I may as well have not bothered, it was so big I came away more confused than when I entered), before Pep and Riyad Mahrez took questions at their pre-match press conferences. Both were in relaxed mood, with Mahrez's lack of NFL knowledge causing much laughter in a room dominated by US journalists. 
There was then an open training session, again in front of a small invited audience from local OSCs, before a signing session afterwards. The passion of the local supporters was clear - for them, getting to meet their heroes is something they will never forget.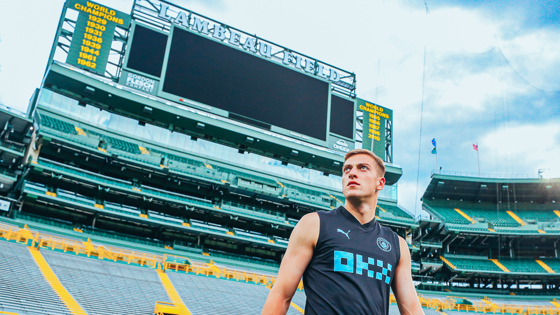 Saturday 23 July 
Our final day in the States saw us play our second match, this time at the iconic Lambeau Field against Bayern Munich. 
It is officially the biggest crowd of any 'soccer' game played in the US this summer, with the 78,128 in attendance eclipsing all others. 
We won 1-0 and played some outstanding football.
Haaland bagged his first goal, Grealish looked exceptional and Josh Wilson-Esbrand was assured. If he can stay injury free, could he have a run in the side this season? On the evidence of this, he wouldn't look out of place. 
Two wins and two really good performances, with the pace and the quality of our attacks impressing, given the lack of game time each player has had.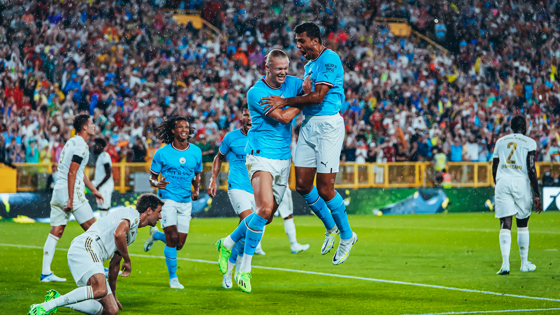 So, that's it for another tour. This one felt special. Two great performances in two huge stadiums, a squad of players who clearly love one another and a manager whose dedication drives everyone to greater heights.
This could be a very exciting season.