The BBC's South American football expert Tim Vickery believes City's huge Champions League last 16 decider with Real Madrid offers 'streetfighter' Gabriel Jesus the perfect platform to become a hero and so cement his name in Club folklore.
By common consent, the Brazilian striker produced his most outstanding display for City in February's first leg encounter away at the imposing Bernabeu where we secured a vital 2-1 advantage.
Deployed on the left side of our attacking trident, Jesus proved a thorn in the Spanish giants' side all evening, marrying his forward thrusts with some prodigious work rate and he capped a memorable night by heading home a vital second half equaliser.
With record scorer Sergio Aguero currently sidelined with a knee injury and manager Pep Guardiola stating the Argentine is unlikely to be fit for Friday's Etihad encounter, Jesus is again set to be handed the task of leading the City attack against the 13-times champions of Europe.
The match-up between City and Zinedine Zidane's newly crowned La Liga champions is a mouth-watering prospect that has garnered worldwide attention.
Jesus will go into the match buoyed by having scored 22 goals so far in the 2019/20 season - his best season's tally since moving to City in January 2017.
For renowned commentator on South American football, Vickery, who has followed Jesus's career since he emerged as a teenager with Brazilian powerhouse side Palmeiras, the game offers the 23-year-old a chance to permanently endear himself to all City fans – and also remind everyone back home of his ability.
"Jesus has gained a lot of experience already but he's still only 23. Now can he get his name in the limelight? What a chance to be a hero in a game of this magnitude," Vickery declared.
"This is the type of game that he would have dreamed of playing when he was growing up as a boy in Sao Paulo - now he is living the dream.
"I think Gabriel will have taken a huge amount of confidence from the way he played during that first leg and I think Friday will be the biggest game he will have played since the 2018 World Cup finals.
"This run in the Champions League is absolutely huge to him.
"With Sergio Ramos suspended I think it will leave some gaps at the heart of the Madrid defence which Jesus can look to exploit. So, this is his big chance to look to take Madrid to the cleaners without Ramos there.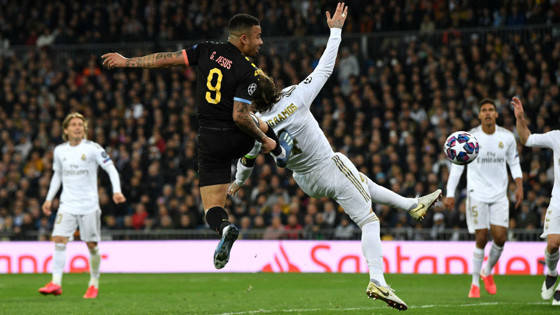 "You've got a striker in Jesus who can attune to the needs of the team. He can play centrally or on both sides and I think he likes the space that affords him.
"He's got the pace too which scares defenders.
"Real will fancy this given the form they are in and obviously the fact that they have just won the Spanish league
"But there's a street fighter there in Gabriel who never hides and there's still the kid there who grew up in love with football back in Brazil. He has never lost that.
"There's a lot of pressure on him in Brazil. He will be very aware of the fact that in the Champions League he's not just playing for City fans that he is playing for an audience back in Brazil too.
"That realisation helped fire up him in the Bernabeu and it worked a treat and hopefully it will do again at the Etihad.
"It's such a big night for him and it's his chance to be a hero."
SHOP NOW | CHECK OUT OUR PUMA 2020/21 COLLECTION
One of the many fascinating sub-plots surrounding the match is the fact that alongside Jesus, several other high-profile Brazilians could well be in direct opposition.
While City also have goalkeeper Ederson and midfielder Fernandinho in our ranks, Real boast formidable Brazilian talents such as Marcelo, Casemiro and Vinicius Jnr to name but a few.
As such, Vickery says it's a game has captured the attentions of football fans in Brazil – and will help bring an extra competitive edge to the Etihad match-up.
"I'm sure the fact that Madrid also have a large contingent of Brazilians will make it even more of a special occasion for the likes of Jesus," Vickery added.
"Madrid are huge here in Brazil. They have Casemiro, Marcelo, Vinicius Jnr and Rodrygo but Casemiro is the one to watch because he is the man who closes the gates.
"He sits in front of their back four and is the real protector.
"So that will be a real tasty duel between two Brazilian national colleagues.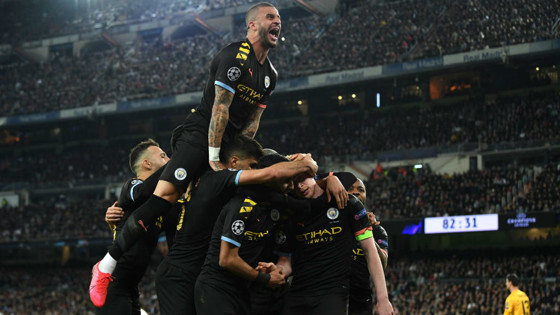 "Brazil's coach Tite calls Casemiro the competitive leader of the national team so Gabriel Jesus can probably expect a clattering from Casemiro at some stage.
"But Gabriel can be feisty too and I think he will relish that prospect. He will love the opportunity to show everyone just what he is about.
"If he gets City through and does the business in the Champions League that will cement his reputation and City career.
"And looking to be successful in Europe - that is obviously the main objective for the Club."
One of the features of Jesus that most caught the eye at the Bernabeu was his total lack of fear on the most intimidating of stages.
A feature of his three and a half years at City has been that the bigger the challenge, the more the Brazilian tends to thrive on it.
Vickery believes a key factor in that powerful part of his personality and mindset lies in the grounded upbringing he was afforded back home in South America.
"He never ever hides. The real hero of his story is his Mum who raised a big family on her own.
"She went out cleaning houses for a living here in Brazil and it's a very Manchester story. Its almost a bit like Noel Gallagher.
"She really kept a tight leash on them.
"Growing up in that situation it's easy to take a wrong turn in life but Gabriel never did.
"The story I really love is when he played his first game for Brazil in 2017 when they were away to Ecuador who were flying at the time.
"And he's the teenage centre forward leading the line for Brazil. It was a real gamble,
"I remember thinking: 'He is not ready; this isn't going to work.' And after 70 minutes Gabriel was still out there on the field and all he had done was get caught offside.
"Then in the last 20 minutes he wins the game for Brazil. First, his pace earns them a penalty and then he scores two fantastic goals and he has won the game.
"The first thing Gabriel did afterwards in the dressing room was phone his mum and she said: 'Son, why are spending the whole time being offside!!' That's brilliant.
"I think that helps explains the real powerful positive side of him."
One thing that is certain, according to Vickery, is that as in Europe, City v Real will be must-see viewing for football fans in Brazil and across South America.
"Interest in the game is huge… absolutely massive. Top class European football is incredibly popular in Brazil," Vickery added.
"The only downside here is that the kick-off will happen in the afternoon Brazilian time so many people will be at work.
"But I suspect that in lots of offices productivity levels will fall when the game is on as they will all be watching on their mobiles. It's a huge occasion.
"Football is slowly starting to come back here but during the pandemic all there has been to watch has been European games and the Premier League along with La Liga are the two most popular leagues to watch.
"Over the last couple of months people have been watching even more.
"That means people have built up an even more of an identification with both City and Real players. That will add even extra spice to the game for a South American audience.
"It's a mouth-watering prospect – I can't wait!"
Tim Vickery is the South American football correspondent for the BBC. You can follow him on Twitter: @Tim_Vickery
DONATE NOW | CITYZENS GIVING FOR RECOVERY
You can watch full-match replays of every City game with a City+ subscription. 
For more information on City+, follow the link HERE.