Rodrigo says every game from now until the end of the season will be a final for City.
Second-placed City travel to Tottenham on Sunday looking to close the gap on Premier League leaders Arsenal who were beaten 1-0 at Everton on Saturday.
A victory in North London would reduce Arsenal's lead to two points, though the Gunners would have a game in hand.
However, the Spaniard says the Blues are used to chasing down leads in the Premier League and says there is still a long way to go.
"At the end, we have the experience, and we know that this is very normal," said Rodrigo.
"We know that there are still 18 games remaining and still a lot of points to play for.
"We know the level of the league and that every game is a final.
"Maybe in another situation where the league is not that good, I would say 'OK', but the league is just there, and every game is a final.
"We just keep calm, try to go on our road and don't look too much at our opponents. We will just focus on ourselves."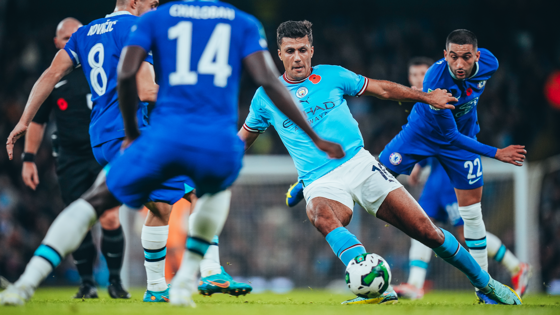 There is still a lot of hard work ahead for Pep Guardiola's men in the pursuit of Arsenal and the added pressure of dropping as few points as possible in the games that remain.
Rodrigo, however, believes it is a good pressure to have and says it merely intensifies City's focus.
"When you play with pressure in this sense, you play with more desire because you know that you cannot drop or fail," the midfielder added.
"Maybe you play with more responsibility, but it is a matter of mentality. It is all about mentality.
"Trying to be consistent every three days, knowing you are going to be tired and there are going to be moments where you have to run, deal with the pressure, and suffer sometimes.
"This is the mentality of champions."
One of the Premier League's most influential and effective defensive midfielders, Rodrigo is also well-placed to compare two of Europe's best strikers who will be in competition with each other on Sunday - Erling Haaland and Harry Kane.
"In Erling, we feel like we have a weapon [we can use] to fear the opponents," the Spaniard added.
"Of course, we have switched different things to the way we used to play before - before we didn't have this weapon and now we have it.
"[Having him] is always a guarantee of scoring goals and I think he can score more than one goal immediately in every game.
"I think Kane and Erling are the two greatest strikers in the Premier League right now. Kane is a top player, a great player.
"He has been at the highest level for 10 years in my opinion. I just enjoy watching him because he understands the game in the same way.
"Not only scoring goals, but trying to improve the game for the team, dropping deep in situations. He is a very clever player."
SPURS V CITY
City travel to Tottenham on Sunday for a 16:30 kick-off and you can follow the game across mancity.com and our official app.
We will start live updates at 14:30 on our Matchday Centre and that will run throughout the afternoon.
Our Matchday Live programme will begin shortly before team news arrives at 15:30. Natalie Pike will be in the studio with Joleon Lescott and Steph Houghton to give you a City-centric view on events in North London.
During the game, Alistair Mann and Michael Brown will talk you through proceedings with our radio commentary offering.
Afterwards, we will bring you all the reaction from the Tottenham Hotspur Stadium before short highlights are available at 20:15 and extended highlights from midnight.
CITY+ subscribers can watch the entire 90 minutes back from midnight.