Gareth Taylor says Erling Haaland is a 'rare kind of player'.
The Manchester City Women boss, talking after the Blues' 2-1 win over Sheffield United on the full-time section of Matchday Live, says the Norwegian makes an impact whether he touches the ball or not.
Haaland missed a first-half penalty and saw another couple of efforts go wide as endured a tough physical battle with the Blades' central defenders.
But Taylor says that no matter how his game is going, Haaland never loses heart or stops working for the team.
"He's a rare kind of player because he doesn't seem bothered that he's not involved in the play - he might get frustrated with certain things - but players today don't feel they are contributing if they are not getting touches on the ball," said Taylor.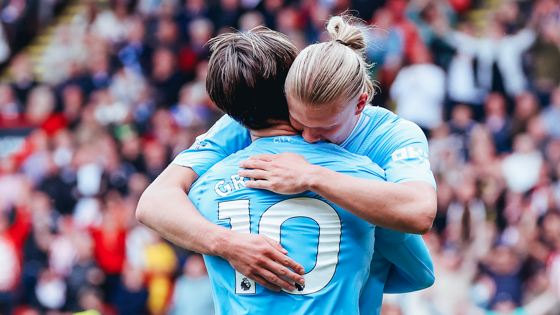 "But what Haaland does if he's not involved is attracts players to him and that frees up players elsewhere, and I think if he gets two or three chances in a game and scores one, he's got to be happy because he's doing a great job for the team.
"There aren't many players like that because so many feel they have to be in regular contact with the ball."
Studio guest and former skipper Keith Curle praised Haaland's determination and mental strength to never shirk from the task in hand, no matter what has gone before.
"You do get some centre-forwards who, when it's not going their way and have missed one or two chances or even a penalty - go missing ," said Curle.
"Not Haaland - he wants to be in the right place at the right time no matter what has gone on before and that's the strength and mentality great strikers have to have."
Fellow Matchday Live pundit Shaun Goater praised the cameo role sub Phil Foden gave in the closing minutes – as well as the attitude of the whole team after conceding a late equaliser.
"Phil brings so much energy and quality and he's that good, part of me actually believes it wasn't a mis-control when he received the ball in the box and that he meant to lay the ball off to Rodrigo!" said Goater.
"He was driving at them, finding little pockets of space, asking questions, and bringing that energy.
"You could see throughout the whole team that after Sheffield United equalised, in the last seven or eight minutes it was like 'we're not going to draw this game – we've got to get another goal' and we really went for it."