City's thrilling 4-3 victory over Real Madrid demonstrated what Pep Guardiola's men can do against Europe's elite, according to Shaun Wright-Phillips.
The two sides served up a Champions League classic in our semi-final first leg, with City eventually coming out on top ahead of next Wednesday's reverse fixture.
Guardiola's men were eight minutes from securing a two-goal first leg advantage, but Karim Benzema's clinical penalty halved the deficit for a third time at the Etihad.
And Wright-Phillips, who was a special guest on our Matchday Live show, admits City can learn a valuable lesson from allowing Los Blancos back into the tie.
However, the former City winger also pointed out that we should take confidence from how we pushed one of world football's greatest sides to their absolute limits.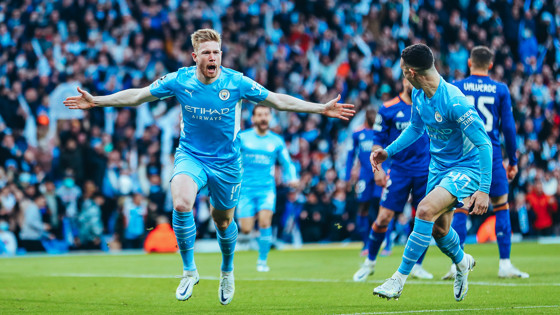 He reflected: "I think we've seen them lose and bounce back or draw and go and destroy teams. That's just what City do. The game's over now, it's 4-3, we've won, we didn't lose – everyone smile a bit!
"They're a fantastic team and if you do make mistakes and give them chances, they will take them.
"In a way that's a lesson for City to learn, these are the sort of teams you have to be concentrating at all times otherwise they can punish you.
"But we've scored four goals against Real Madrid, arguably one of the top five teams in the world right now, that shows what we're capable of and what we can do."
Wright-Phillips was joined by Shaun Goater in the Matchday Live studio and he agreed with his former teammates' sentiments.
The ex-City forward also explained where he believes Guardiola's men can exploit the 13-time champions in next week's reverse fixture, while also praising both sides for the captivating encounter they served up.
"(Real Madrid) can't live with our tempo when we really get to that level of moving it, pushing it going with real pace and quality in possession," he said.
"And when out of possession, getting amongst them to snuff out their periods of keeping the ball, they won't be able to live with us.
"That'll be the lesson from tonight's game that we'll look to improve when we go there.
"What a game, I'm still catching my breath. In terms of a spectacle: what a game it was just so exciting, end to end, quality from both teams."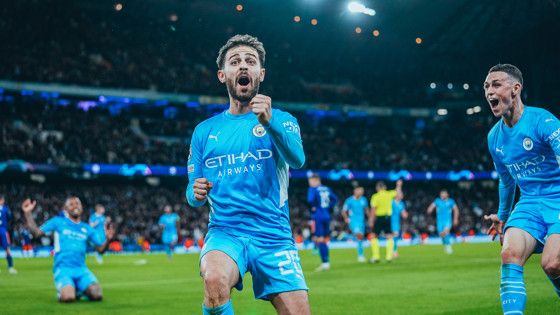 Of the seven goals scored at the Etihad, Bernardo Silva's thunderous strike was perhaps the pick of the bunch.
Making the most of referee Istvan Kovacs' advantage after Oleksandr Zinchenko was fouled on the edge of the area, the midfielder rifled an unstoppable effort into the top corner of Thibault Courtois' net.
The Belgian stopper was rooted to the spot and Goater heaped praise on the technique shown by Bernardo in order to pull of the strike.
CITY+ | SUBSCRIBE TO ACCESS EXCLUSIVE CONTENT
He revealed: "When he received it, I was thinking it wasn't the best of angles, but he's unleashed an absolute rocket.
"I looked at (Thibault) Courtois' reaction, it was almost like someone had obscured his vision, but there was nobody in front of him!
"It just shows how hard it was struck and I was sitting there thinking wow, the strike was so clean.
"We talk about his energy, he's a quality player but he's pulled off some strike tonight, it was beautiful and the 'keeper has no chance."