Ruben Dias believes Bernardo Silva's focus on the collective is what sets him apart from many other world class talents.
The Portuguese midfielder's outstanding performances this season have seen him become the first City star to win the Etihad Player of the Month award three times in succession.
And with seven Premier League goals this season, the 27-year-old has already matched his best scoring tally in the English top flight across an entire campaign in just 16 matches.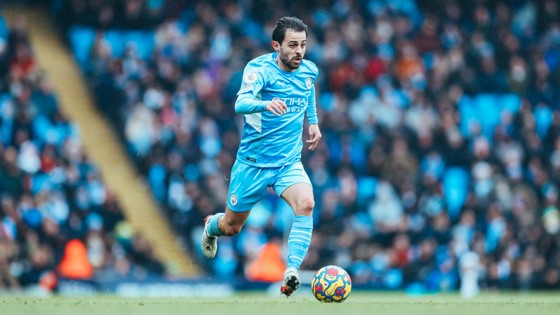 For Dias, however, it is Bernardo's selfless nature and focus on the team which makes him such a vital part of Pep Guardiola's squad.
He said: "You just have to give him the credit because he is outstanding. When I talk about Bernardo, I always like to talk about what I believe makes who he is.
"You have many players with a lot of quality at his level, but you don't have many that are able to make the sacrifices he makes.
"That is who Bernardo Silva is. A guy who is equally talented as the others, but willing to make sacrifices that not many others are willing to.
"That is a good thing to reflect on, especially the youngsters, because that is the kind of player and personality you should be aiming for. For the team, that is the best thing you can have."
City go in to Tuesday's clash with Leeds at the Etihad Stadium currently boasting the Premier League's best defensive record.
Dias has played a major role in that fine form, which has also been emulated by his fellow centre-halves in Aymeric Laporte, John Stones and Nathan Ake.
And that competition for places is something that our no. 3 welcomes, believing it to be one of the key factors in our success so far this season.
"I think you can only take positives from that competition. Competition makes you reach higher, makes you better and makes you want to be the best," Dias reflected.
"It is only healthy to have it and healthier than not having it.
"I believe everyone has their own ambitions and that is the most important part, because whenever you might be in a certain place, it just keeps you grounded and awake.
"To have competition, it is good to have quality around you and we have a lot. That is one of the biggest reasons why our team is so successful."
Dias' first taste of English football after joining the Club from Portuguese outfit Benfica came in our 1-1 draw away to Leeds in September 2020.
Looking ahead to our clash with Marcelo Bielsa's men at the Etihad Stadium this time round, he is expecting City to be pushed to our limits once again.
He declared: "They are a different opponent to Wolves, but it is another team that is a highly demanding game.
CITY+ | SUBSCRIBE TO ACCESS EXCLUSIVE CONTENT
"The team has a particular way of playing and we know about that. The two games against them [last season] are always two very different games from every other in the season.
"It will be a different challenge and we need to be as ready as we can for it. That is the only thing we can do.
"We know how strong they will be and we will need to be at our best once again to beat them."