A detailed analysis of Ruben Dias' incredible maiden City campaign, in which he was voted FWA, Premier League and Etihad Player of the Season.
After reclaiming the Premier League title, retaining the Carabao Cup for a fourth successive year and reaching our first Champions League final, the 2020/21 campaign will live long in the memory for City.
At the heart of that success was Ruben Dias, signed in September 2020 from Benfica to help bolster Pep Guardiola's defensive options after an indifferent start to the season.
The impact was instant, with the centre-half cementing his place in the team thanks to his consistently disciplined and committed displays.
Now looking to help his national team retain the European Championship trophy they won for the first time back in 2016, things could still get even better for the Portuguese defender.
Below are just a few examples of the incredible stats behind Ruben Dias' debut Premier League campaign, and the influence that he has had on City's success.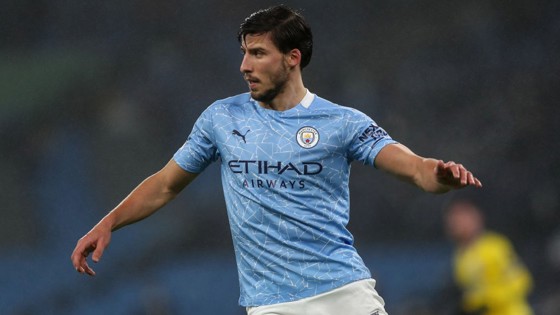 The Awards
Dias has rightfully been recognised for his contribution to an historic season at City with a double swoop of the Football Writers' Association and Premier League Player of the Year awards.
In terms of the FWA gong, the Portuguese defender has become only the third player since the accolade was first introduced in 1948 to win the award in their debut season in English football, and the first since Gianfranco Zola in 1996.
If that feat wasn't impressive enough, Dias has also broken new ground in becoming the first player to be voted Premier League Player of the Season off the back of a maiden campaign.
No other player in history has picked up more than one award in their first season in English football, an astonishing testament to the defender's impact on the Premier League.
CITY+ | SUBSCRIBE TO ACCESS EXCLUSIVE CONTENT
Clean Sheets
In its simplest form, an accurate barometer of any defence's success can be found by looking at their clean sheet record.
While City's scintillating brand of free-flowing, attacking football rightfully won us many plaudits, our incredible defensive record provided an essential barrier at the other end of the pitch.
As a crucial part of that impressive rearguard, it comes as no surprise to learn that Dias' individual clean sheet record makes for incredible reading.
In total, City kept a clean sheet in exactly half of Dias' 50 appearances in all competitions.
Essentially, with Ruben Dias at the heart of the defence, we conceded just one goal every other game on average across the entire campaign.
Defensive duties
Breaking down Dias' statistics in key defensive areas such as blocks, interceptions and headed clearances, sheds further light on his impressive debut campaign.
A significant quality of City's defensive setup this season was the manner in which each and every player put their body on the line to thwart an opposition attack.
Indeed, at times a last-ditch block almost triggered as large a celebration as scoring a goal at the other end of the pitch.
Dias' commitment to the cause is clear for all to see, and his 23 blocks across the Premier League season is the highest return of any City player.
His regular centre-back partner, John Stones, is his closest rival in this category with 15, and their combined total of 38 equates to 86% of the team's successful blocks in the Premier League.
In terms of interceptions, Dias is behind only Joao Cancelo and Rodrigo for City, with the trio registering 41, 36 and 35 respectively.
But the Portuguese defender once again comes out on top when it comes to aerial clearances, finishing the season with 49.
His closest compatriot, Rodrigo, completed 36 while Stones is the only other player to register more than 20.
Quality in Possession
Dias' defensive stats make for impressive reading, but his value to the team also involves an important role in City's buildup play and in helping to start attacks from deep.
He finished the 2020/21 Premier League season with a total of 2,713 passes, placing him behind only teammate Rodrigo and Tottenham's Pierre-Emile Hojberg's respective hauls of 2,785 and 2,765.
Our number three was head and shoulders above his fellow Premier League centre-backs, registering almost 500 passes more than his closest rival, Manchester United captain Harry Maguire.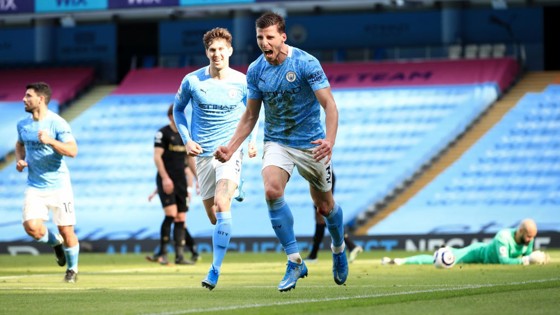 A Winning Formula
Dias immediately has established himself as a key cog in Pep Guardiola's well-oiled machine, and that is represented by our incredible winning record when the Portuguese defender featured.
With Dias on the field, City tasted victory in 38 of 50 matches in all competitions across the 2020/21 campaign, translating to an astonishing win rate of 76%.
Furthermore, that record also equates to an incredible average of 2.4 points per game.
In short, if that figure were to be translated into a 38-match Premier League campaign, City would have finished on 91 points; enough to win the title in all but five seasons.