Raheem Sterling has revealed that his stoppage time strike against Southampton in November 2017 helped to spark his 'obsession' with scoring goals.
The winger curled home a dramatic 96th-minute winner at the Etihad Stadium to earn City what was then a club-record 12th successive Premier League victory.
Sterling is on the cusp of becoming only the sixth Manchester City player to have scored 100 goals in the English top flight, 81 of which have come during his time at the Club.
And ahead of him potentially reaching the historic milestone in Saturday's lunchtime kick-off against Wolves, the 27-year-old has reflected on a particular strike which he described as a turning point in his career.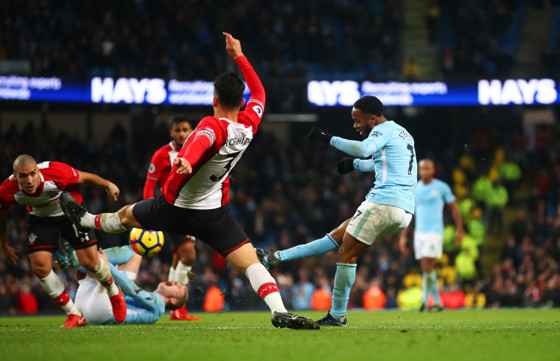 "(The Southampton goal) is when I started to become obsessed with scoring goals," he said.
"I wasn't really interested in scoring goals [before this]. I wanted to meg someone, do a stepover, make someone drop.
"I wanted to do fun stuff and have some nice YouTube clips. That is what I was like growing up!
"Of course, it is always nice to score but that wasn't my main objective from the game. It was about beating your man, getting assists and looking nice.
"But around this point [against Southampton] was a real turning point for me. I wanted to score winning goals and have people talking about the winning goals.
"It was a nice feeling as you were helping your team. In the past, when I was 17, 18 or 19, people would say 'he can't finish and he can't score goals'.
"Sometimes I was a bit sloppy and it was something I wanted to get better at and I feel like I have."
Sterling says it will be a special moment when he does eventually complete his century, insisting that the feeling of hitting the back of the net remains as significant as ever.
He declared: "It is a great feeling (when you score). When you just know it is in, it is beautiful.
"As I have said in the past and in many interviews before, this is something that I was obsessed with as a kid.
CITY+ | SUBSCRIBE TO ACCESS EXCLUSIVE CONTENT
"Everything else comes second to football pretty much. When you do reach achievements and accomplishments like this, it is going to be something I am definitely proud of.
"Once you start scoring and get the feeling of scoring, you definitely want to keep scoring and keep looking for the next goal."