Pep Guardiola insists he and the squad meet every obstacle across the season as a collective, rather than as individuals.
City's FA Cup journey concluded at the semi-final stage, with Hakim Ziyech's second-half strike enough to see Chelsea into next month's Wembley showpiece.
Nonetheless, the players can still look back with pride on a week in which we progressed to the last four of the Champions League for just the second time.
Guardiola made eight changes from the side that won 2-1 against Borussia Dortmund on Wednesday night and insists that rotating the squad is essential to fight on multiple fronts.
DOWNLOAD THE OFFICIAL MAN CITY APP 
He is also confident that the team will band together and bounce back from this setback, as they always have done in both victory and defeat.
"We arrived here all together and we are going to finish it all together," he maintained defiantly.
"I never put the responsibility on one two or three, we lost together like we won the last game all together against Borussia Dortmund.
"Sometimes I think I could have played the same selection as Dortmund but who knows what would happen, nobody knows.
"In England, it is so tough - this year more than ever. Right now, I don't know what will happen in the next games.
"But with just 13 or 14 players, you won't arrive in the last stages, one month, six weeks the end of the season without everyone involved.
"It was a tight game (against Chelsea), we were there until the end."
The City boss will be hopeful that the injury sustained by Kevin De Bruyne in our semi-final defeat will not rule him out for a lengthy period.
The Belgian is in scintillating form, with his inspired display in the second leg against Borussia Dortmund a case in point, but he was forced off after 48 minutes at Wembley.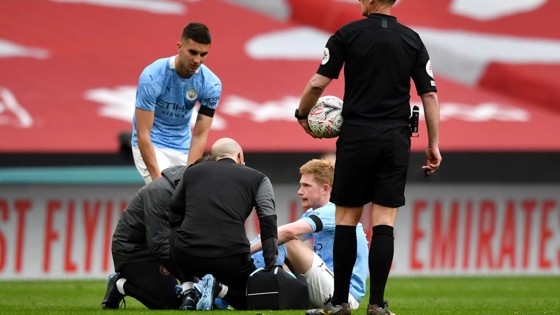 Although Guardiola agreed that De Bruyne is a key cog in our well-oiled machine, he is confident that the players will step up if he is side-lined.
He said: "They are going to do it. We (already played) part of the season without Kevin unfortunately. He came back strong in the best moment.
"It is what it is, first we have to wait to see the result from the doctors on the pain he has and then after, we will see.
"Unfortunately during the season, you have these situations, in this season we were lucky because the doctors have done an incredible job."
A semi-final defeat is always a bitter pill to swallow, but City still have much to play for in what could be a historic season.
Guardiola's men need 11 points from our final six matches to guarantee a third Premier League title in four seasons, while Sunday's Carabao Cup final against Tottenham provides the perfect opportunity for us to bounce back at Wembley.
Beyond those domestic opportunities for silverware, our dream of a maiden Champions League triumph is also still alive and kicking, with a two-legged semi-final against PSG on the horizon.
With this in mind, the City boss urged his players not to lose sight of what has already been a phenomenal season, and of what can still be achieved.
He said: "People say it's disappointing because we don't win the quadruple. People expect it is easy and we have to win everything. This season has been incredible.
"Today we are sad because we want to reach the final of this prestigious cup.
"The team trained really well and were incredibly focused.
"I trust the players and I let them play. Sometimes it is difficult because the opponent is good.
"At the same time, we will learn and try to win the FA Cup. We competed well and now we go to the next games."
CITY+ provides unrivalled access to new and exclusive City content, including full-match replays and CityTV documentaries.
You can sign up for a 30-day free trial, after which CITY+ costs just £1.99 a month.
For more information, click here.