Phil Foden expects City to go for the win when we lock horns with Real Madrid in the second leg of our Champions League semi-final.
The two sides served up a classic encounter at the Etihad Stadium, with Pep Guardiola's men eventually claiming a 4-3 victory over Los Blancos.
Foden was at the centre of City's important win, heading home our third goal of the game from a Fernandinho cross soon after the restart.
The England international described getting on the scoresheet as a 'special' feeling and believes City can take confidence from the number of chances we created when we travel to the Spanish capital for next week's return fixture.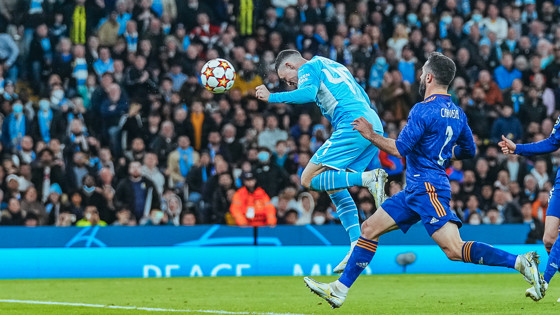 He said: "We always try to attack, no matter what the score is. I thought we created so many chances and we can take confidence from that into the second leg.
"We need to try and do the same that we did yesterday, we don't change anything and we always play the same football and the same way.
"It was very special to score in a semi-final, it means everything to me.
"I just need to keep my form up now and hopefully the second leg is much better. I had a great chance in the first half and Riyad had a chance as well.
"If those two go in, then it kills the game. All we can do now is take this performance today into the second leg."
Despite creating a flurry of opportunities, City were forced to settle for a one-goal advantage against Carlo Ancelotti's side after Karim Benzema's late penalty.
Indeed, while Foden admits it was a thrilling encounter to be a part of, he is braced for the 13-time champions to push us to our limits at the Bernabeu.
"They always find a way and that is why they have won the Champions League so many times. They are always in the game.
"We have to stay focused for the full 90 minutes and that is all we can do. We can take a lot of confidence [into the second leg].
"We hurt them when we were attacking and scored more goals so all we can do is be proud of ourselves.
"It was very entertaining to play in and hopefully the second leg is like that as well. Atletico played their own way [in the last round] and Real Madrid are a lot more attacking and a fluid team.
"It is going to be an interesting second leg and we are going to have to control it more because we know that they can hurt us at any time with great players like Benzema who can score a goal out of nothing.
"The manager touched on it before the game that Real Madrid have won the Champions League so many times and they never seem to be out of the game, no matter what the score is."