Pep Guardiola says Sergio Aguero needs time to find full match sharpness after a year of injury setbacks.
Aguero has played just 11 times this season, with his appearance against West Ham on Saturday his first start in four months.
And he looked somewhat short of his best after such an extended period on the sidelines.
CITY+ | SIGN UP TO ACCESS EXCLUSIVE CITY CONTENT
But with City on course for four trophies as we head into March, Guardiola says our best moments are yet to come – and believes Aguero's goalscoring prowess could provide vital firepower as we look to turn our fine form into silverware.
"Sergio has been injured a lot in the last year," Guardiola said. "In that period of a year, he played a few games and then got injured again.
"Today he played 60 minutes. Even winning 3-0, he would have played 55-60 minutes, no more.
"He has special talents and special quality. He will help us.
"In the first half, he was so isolated because the team didn't play well. Second half was better, he was more involved.
"I was injured for one year when I was a player and I struggled coming back. It's not easy for him. But he will play better.
"There will be games that are tight and difficult and we need a goal - who is the best guy in these terms? Him.
"But he is coming back after a year and needs time.
"We will fight for the title, we go to Goodison Park for [a place in] the FA Cup semi-final. Many nice things to fight for. Everyone has to be ready."
Aguero is a bona fide City legend, having won 13 major trophies in his nine full seasons at the Club.
He scored the Premier League's most famous goal on the final day of the 2011/12 season to seal our first title in 44 years and is City's all-time leading goalscorer with 256.
Guardiola recognises his status and believes he has a big role to play this season – but insists every player knows they have to be at their very best to ensure our impressive recent form is rewarded with trophies.
"He knows it," Pep said. "He knows it from day one, the guys who play deserve to play.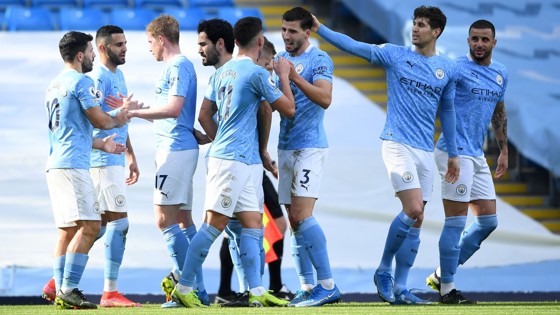 "From day one all my message is: 'What we did two hours ago is over.'
"It's not just for Sergio - it's for everyone. I try to make fair decisions. Fair for one player is unfair for another one.
"Today was a real tough game for the three players upfront. It's good news he played 60 minutes and then the next game we need him, let's go.
"Sergio is so important for us. He scored the most important goal in this club's history.
"We want to help him - he will do it."