Pep Guardiola says if City want to be Champions League winners, his players must beat the top teams along the way.
Speaking after the 2-1 win over Real Madrid, the Catalan says there will be more tough games to come and his players must be ready to take on the best.
"We are here to try to win the Champions League," said Pep. "This is just one step.
BUY YOUR WE'RE NOT REALLY HERE TOUR T-SHIRT NOW!
"I am more than happy for the players to got to Portugal. We know exactly which team we beat. We are satisfied.
"Of course, it's important for us. We beat them twice. They have never lost two knockout games.
"To win this competition you have to win against teams like Madrid, Barca and so on.
"When you play against Real Madrid, you realise how good they are. You can see the personality they play with; they are good.
"When you are on the sidelines and see the personality and charisma, it looks like they are playing a friendly - they play this kind of game thousands of times.
"We weren't keen to defend 1-1. We tried to score and couldn't; Courtois made some saves - but we deserve to be in the next stage.
"We scored two goals from their mistakes. It's not easy and we tried to convince them to attack, but we are in the quarter finals and we are happy."
And his praise for Gabriel Jesus was fulsome, too.
"This competition will punish you - but Gabriel made his contribution," said Pep
"He is the best guy at making these kind of actions.
"Gabriel was man of these two games. We scored in Madrid, won the penalty, and then today he made an assist and scored a goal.
"Gabriel always helps with more than goals, but for a striker it's important to score. For big players it's important to show on the biggest stage.
"He has done it twice and he made a big step to say: 'Here I am, I can win games myself'."
The City boss, when asked if his team's pressing was key to the win over Los Blancos, replied: "You have seen how the team play and for the last four years, it has happened.
"Sometimes it worked, sometimes not. Against good teams, it's more difficult.
"We knew we were going to suffer at times, but we conceded few chances and there was a great save from Eddy.
"In the second half, not so much. The players made an incredible effort, all of them."
The Catalan also revealed a tactical tweak at half-time made things more comfortable in the second period, adding: "In the first half we played with wingers more inside.
"It was a mistake from my side, but in the second half, we corrected it. We had more spaces and more time."
And on facing Lyon, he said: "I just spoke with our scouting department and they said: 'be alert!'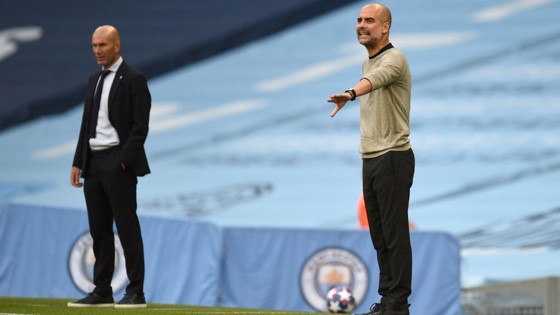 "There are still many incredible teams - but it's important for our confidence to beat Real Madrid. But it's just last 16.
"We now go to Portugal, be together, eat well, laugh a lot, work a lot.
"Our best success in this comp is one semi- final. We have to be calm and see what happens
"Now we have seven or eight days to prepare. We will enjoy it today and tomorrow. The day after, we will start to think about it."