Pep Guardiola says he has full belief Raheem Sterling can rekindle his best form.
The City and England star - instrumental in the Club's success since his arrival in July 2015 - has netted 13 goals and crafted 11 assists in 42 appearances this season.
Although the 26-year-old enjoyed a purple patch at the start of 2021, he has not featured or found the net as regularly as he had in previous seasons, having not scored at Club level since our 1-0 triumph over Arsenal in February.
CITY+ | SIGN UP TO ACCESS EXCLUSIVE CONTENT
However, Guardiola asserts Sterling's absence is merely a consequence of his teammates' starring roles.
The City boss also tipped his 'extraordinary' forward to shine for both Club and country in the coming months, adding that the confidence to do so must come from within.
"Raheem is an extraordinary player," he stated. "He was, is and will be.
"He maybe hasn't played as regular as previous seasons. Phil [Foden] and Riyad [Mahrez] are in top form. That's the only reason why but the opportunity will come and he has to be ready to show his quality, be fresh in his mind and play the incredible strengths he has.
"The only way is to let him play. After, it depends on them. It is not about confidence. They have our confidence – if not, they would not be here.
"The quality is there. It's not a case of: he doesn't have confidence and then by talking to me, he is confident.
"They are top-class players and they have to get the confidence from inside themselves: 'I am going to show how good I am.'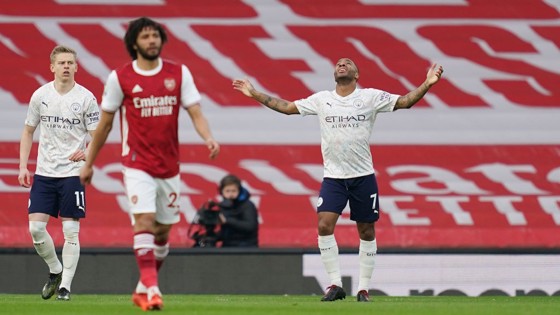 "It's the only secret. They have to show every time they have the quality.
"The confidence is absolutely there but I have to make a selection. When I win, it's a good selection, when we lose it's a bad selection.
"They have to show it. The competition doesn't matter. We've shown over the last five years, every game we try to win.
"They have to play well, perform well. It depends on them – not the manager. They have to show their confidence to me – I don't have to show my confidence in them."
Asked whether Sterling could find his rhythm in time to help England at the Euros, Guardiola declared he would be delighted.
"For national managers, I am not involved," he admitted, "but I would love it for him.
"I would love the players here to go with their national teams at the Euros."
City face Tottenham Hotspur on Sunday in a Cup Final for the first time since 1981 when the two sides locked horns in the FA Cup at Wembley.
Deadlocked at 1-1 after 90 minutes, a replay was required to determine the winner with Spurs edging a thrilling second clash 3-2.
While the encounter is still regarded as painful by fans of a certain era, Guardiola says he is proud to have played his role in a sustained period of success for the Club.
"It's a long time ago," he said. "It's not a problem for the fans... it was a long time ago. The world changed a lot since then. It's a new time.
"It's a game. They are so strong in many aspects and we will play a good game to get to the Final.
"We have good memories in the last decade in a position City was not in before. Now, we are there since Sheikh Mansour took over.
"The Club made a good step forward and now we can play these types of games. It's important."
CARABAO CUP FINAL 
We will have full coverage of Sunday's Carabao Cup final at Wembley right here on ManCity.com. 
Live text updates will get under way in our Matchday Centre at 14:30, before our We're Not Really Here show starts at 15:25. Andy Morrison and Shaun Goater will join us in the studio, with Shaun Wright-Phillips reporting from Wembley. 
And CITY+ subscribers can watch a full 90-minute replay from midnight. 
CITY+ provides unrivalled access to new and exclusive City content, including full-match replays and CityTV documentaries and features and, after the free 30-day trial, the subscription costs just £1.99GBP / month.
Find out more and sign up here.