Pep Guardiola says City are going to Anfield thinking only of winning.
City travel to Merseyside with a seven-point advantage over Jurgen Klopp's side, plus a game in hand.
But the City boss is expecting the challenge from the defending Premier League champions to be as tough as it ever is – particularly after a midweek loss to Brighton.
"We make a good performance there and sometimes are not able to win," said Pep.
OFFICIAL MAN CITY START PAGE AND WALLPAPERS
"I want to see my team go to Anfield and try to win the game, like day one since we were together.
"We go there to win the game, not draw. We want to win the game.
"They are always a top team. They still have a top squad, they know the process, skills, methodology, they are aggressive.
"They will be more aggressive than ever; they rest after Brighton. They recover and will be ready."
The boss added beating sides around you in the table is vital in any close title race.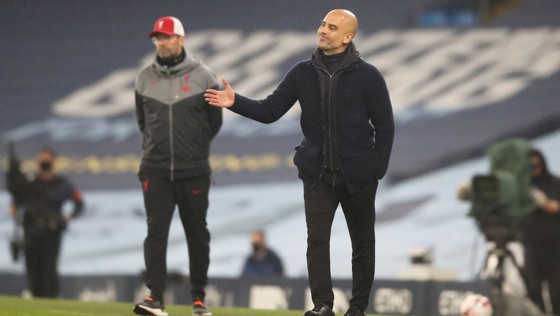 With the 2020/21 campaign shaping up to be one of the most fascinating battles for the league in many years, the Catalan says wins in these game are crucial.
"Of course it would be important to win," he said.
"If you beat Liverpool, United, - it's important to beat them, I cannot deny it. It is always difficult against Liverpool.
"It is a top club, top history, players, manager, backroom staff. Always difficult.
"It's not about how many years (since City's last win at Anfield), or whatever - there are 38 Premier League games - this is one more. 
"Not long ago we were twelfth in table and now we are first. I am not concerned more about the Liverpool game more than the rest."
Asked for a prediction on how the title race might pan out, he said: "I don't make predictions about the future because I don't know. I am so good, but not to anticipate the future. Maybe in the future I will get it, but right now… not good enough.
"I am going to confess something. One game at a time since 2008 when I became manager it's not a surprise, not news.
"It's the same points as beating Sheffield United or Burnley. They didn't give us five points for this game. It's three points. It's not a knockout.
"It's three more points to play for."
And asked who is City's main title rivals, Pep added: "All of them, absolutely. A lot of points to play for.
"My experience in January is no team is off the race and no team already champions. This season, how many leaders in one single season.
"Lots of changes - it can happen again. So we focus on Liverpool, then Swansea and then Tottenham. This is the way to approach."