Pep Guardiola hailed City's defensive solidarity, following a fourth successive clean sheet in Saturday's 2-0 win over Fulham.
First half goals from Raheem Sterling and Kevin De Bruyne sealed the points for the hosts at the Etihad Stadium.
Though the margin of victory could have been greater, the Catalan boss was pleased with his side's performance, particularly at the other end of the pitch, emphasising the importance of stability in the quest for silverware.
CITY+ | SIGN UP TO ACCESS EXCLUSIVE CONTENT
"It is important – a lot," he said, after the game.
"In the last game, Eric Garcia and Ruben Dias were brilliant.
"It's so important they don't make mistakes. In the games against Leicester, Liverpool and Tottenham we made mistakes we could have avoided. Central defenders cannot do that.
"In the last few games, we have been so solid. If the other team makes a good action, fine. They play too… but we cannot give it to them.
"[On Saturday[, Benjamin Mendy, Joao Cancelo… all the back four didn't make obvious mistakes and this is the step to be solid as a team.
"We can make lot of effort and energy to try to play and be positive in football and opponents sometimes wait for one mistake to punish us. We have to avoid it.
"If they want to beat us, they have to do something. We cannot give it to them. In the last few games, we were much better in this department.
"We are in a good moment right now – four games, four clean sheets and a lot of chances created – but we can be better.
"We are better than one month ago but that is normal without preparation and time.
"We are not far away from the top of the league and we have already qualified for the next round in the Champions League. This is important.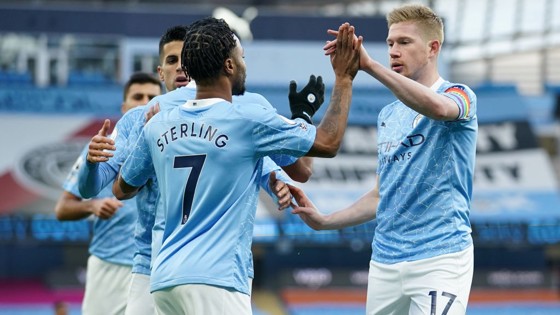 "Now, we will try and continue being there."
City's next Premier League clash (following Wednesday night's final Champions League group stage game against Marseille) sees Guardiola's men travel across town to play Manchester United in the first Manchester Derby of the season.
While City's progress in Europe is secured as winners of Group C, United still have work to do to qualify from Group H, needing a result from their midweek encounter against RB Leipzig.
Asked whether the Reds' scenario presented his side with an advantage, Guardiola contended the players' excitement for the Derby would conquer any tiredness anyway.
"Sometimes we play three days without recovery; sometimes four," he reflected.
"It's a Derby. We will be focused, committed and for these games, the players are not tired. It's completely the opposite."