Pep Guardiola insists the best is yet to come from Kevin De Bruyne in the 2021-22 campaign.
The Belgian was instrumental in Saturday's victory over Chelsea, grabbing the only goal of the game as City finished the weekend 11 points clear at the top of the Premier League.
It capped off a stellar display from the 30-year-old, who has now found the net in four of his last six league matches.
Guardiola couldn't fault De Bruyne's display against Chelsea, but says he has challenged the Belgian to continue to hit new heights over the course of the campaign.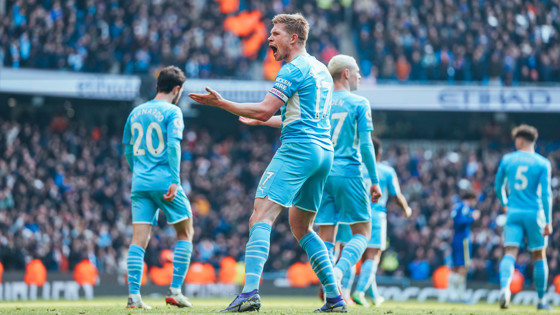 "It is not his best, but he is much better, today he gave everything and scored an outstanding goal," the City boss reflected.
"I know how difficult it is to play against Chelsea. They defend all the corridors inside, there are no channels to attack, you have to be so patient and not lose the ball in certain positions that they are waiting for.
"After that, the most important thing is to have the quality in the final third.
"I have known Kevin for six seasons together. Nothing we have done would have been possible without him.
"(But) Our job as manager is to demand more. I want to take them out of their comfort zones and get him to believe he can do better.
"I think Kevin can do it. I want more because I know he can do it.
"It's nice, I want Kevin to play better in some moments and some games so I have to push him and demand it because I know he can do it."
Guardiola's side were full value for a 12th successive Premier League victory against Chelsea, limiting Thomas Tuchel's side to one shot on target throughout proceedings.
City put in an equally impressive display in September's reverse fixture, when Gabriel Jesus' second half strike saw us come away from Stamford Bridge with a deserved three points.
Our success against Chelsea is in stark contrast to the end of the 2020-21 campaign where City were dealt three successive defeats at the hands of Thomas Tuchel's side, including in May's Champions League final.
Reflecting on this, Guardiola says he's delighted by the way his players have reacted to last season's disappointments against Chelsea.
He said: "After three defeats in a row, especially in the final of the Champions League, to be able to play the way we have done in these two games is the biggest compliment I can give to my players.
"In 180 minutes, we conceded one shot on target against the European Champions.
"We defended and (showed) heart and gave everything to try to win against this team.
"I give compliments because the opponent is so good, Thomas Tuchel is an outstanding manager and the player they have playing and on the bench, in the squad is always really good."
Across the 2021-22 campaign so far, City have gone on to win every match in which we have taken the lead.
It is an incredible statistic, which Guardiola says is down to the players' unwavering desire to give their all for the collective.
CITY+ | SUBSCRIBE TO ACCESS EXCLUSIVE CONTENT
"It shows we believe in what we do. It doesn't matter what happens, we try to do it and go and go and go," the City boss declared.
"During the season there are personal problems, the players are humans, they have families, they have problems.
"Players have highs and lows. You have to handle the situation. They are human beings.
"I have personal problems as well, but when they are there they try to do their best.
"The biggest achievement is that they give their best every game, otherwise in this league you cannot win 12 games in a row.
"It's impossible. The opponents you see and watch every week are massive."