Pep Guardiola believes City's strong start to the 2022/23 campaign could prove vital due to this season's World Cup-enforced winter break.
A convincing 2-0 triumph away to West Ham in last week's Premier League curtain-raiser was followed by a dominant 4-0 victory over Bournemouth at the Etihad Stadium.
And with City tending to hit our stride during the winter months in recent seasons – the period when the domestic league will put on hold for the Qatar World Cup - the boss is delighted by the way we have begun our latest title defence.
Indeed, Guardiola insists there will be plenty of twists and turns between now and May, but still admitted that the early signs this season have been positive.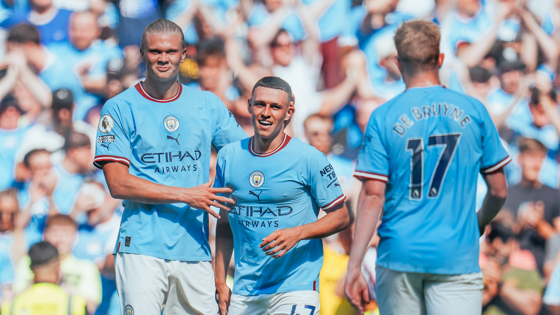 "We are not champions of the Premier League (yet), that's for sure. There are more than 100 points to play but I have no complaints, especially zero goals (conceded)," he reflected.
"The fact we concede one shot on target (against Bournemouth) and in the game against West Ham, apart from Michail Antonio with the header and Declan Rice we didn't concede much.
"That is the most important thing. We have the desire to gain the ball and with the ball we are incredibly well organised.
"Every time we lose the ball, we don't concede the runners or counter attacks and that is so important for us especially against teams like West Ham.
"But we cannot forget three seasons ago when Liverpool won the Premier League, we lost five points in the first five games.
"Two seasons ago we lost seven points in the first five games and last season we lost five points in the first five games.
"Always in this period we drop points, (then) after we make maybe 12, 13, 14 games in a row winning.
"This year that isn't going to happen because when we are strongest - October, November, December - this is the World Cup.
"Maybe it will be different (this season). Of course, it is so important to start this consistent but now we have one or two days off and prepare our game for Newcastle."
Saturday's victory over the Cherries saw Phil Foden get on the scoresheet for the first time this season, while he also turned provider for Kevin De Bruyne in a convincing display at the Etihad Stadium.
The England international was replaced by Jack Grealish during half-time, but Guardiola insists the decision was purely tactical rather than the result of an injury concern.
Indeed, the boss has welcomed the selection dilemma he faces out wide, with Foden, Grealish and Riyad Mahrez all vying for minutes in the early stages of the campaign.
"I wanted to play Jack and do some movements that they have done," Guardiola revealed when asked for the reasons behind Foden's half-time omission.
CITY+ | SUBSCRIBE TO ACCESS EXCLUSIVE CONTENT
"We spoke that we had not done it but especially because it was tough not to play Jack because he played awesome against West Ham.
"But at the same time Riyad (Mahrez) is always so important in the small spaces and can find the right pass and action.
"And Phil is so important, he always creates something unexpected, he is dynamic, he is intelligent with his movement but at the same time he is young and sometimes he still has to understand what he has to do.
"After 45 minutes I wanted Jack to play. It was a tough decision for me to not play him because he played well against West Ham.
"I had the feeling he was ready, the games in pre-season and especially against West Ham he was really, really good."