Pep Guardiola says Manuel Akanji's adaptability and tactical understanding have already made him a major asset to the squad.
With Kyle Walker undergoing groin surgery earlier this week and John Stones still recovering from an injury sustained with England in late September, the defender was deployed at right-back in Saturday's 4-0 win over Southampton.
And the Swiss international didn't disappoint, continuing his fine start to life at the Etihad with another composed performance.
The City boss was quick to praise Akanji's display against the Saints, insisting that the quick adjustment the defender made to an unfamiliar position is testament to his footballing intelligence.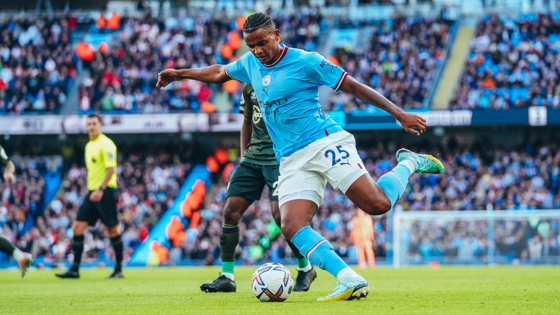 "With [assistant manager] Carlos Vicens on set pieces, he said: 'you only have to tell him once [and] he knows it'," Guardiola said of the centre-half.
"The movement defensively and offensively, he executes it perfectly. This is a gift for the manager.
"Some players, you have to explain ten times or train ten times to show what you are thinking or what you want to do. This guy needed just one training session and he got it.
"The movement he has to do as a full-back, the high pressing, he didn't train once, and he did it perfectly.
"With the ball he is a magnificent player. Our build-up should be three in the back and that's why in the position we normally play Kyle [Walker] or John [Stones].
"He was absolutely perfect. Proof again that intelligent people, always it pays off."
The boss also provided an update on the fitness of Stones.
While the England international is yet to return to full training with his team-mates, Guardiola revealed that the defender's recovery is progressing at a positive rate.
However, the Catalan insisted that Akanji's performance against Southampton has provided him with a viable alternative at both centre-half and right-back to ease any current selection dilemmas.
Guardiola said of Stones: "He is getting better, but still he is not training with us.
"I don't know [when he will return], hopefully he will be better and back when he is fit.
"Manuel has made a huge impact since he arrived, the Club have made an incredible signing with him - a real one - and we are very pleased.
"I am very pleased because we discovered today, if we need him at the back playing on the right, he can.
"With the absence of Kyle for a long time and John, I don't know when he'll be back, he had this chance to play right-back and he can go there.
"It is so important for us to have another weapon on set pieces and long balls.
"How aggressive he is, with the ball how composed he is, he is the whole package."