Pep Guardiola has given an injury update on Kevin De Bruyne ahead of Friday's Premier League clash with Newcastle.
The influential Belgian missed the 2-1 defeat to Chelsea last weekend with a slight muscle issue and with the Champions League final just a fortnight away, there is obvious concern about his fitness.
But the City boss feels De Bruyne is on the mend, though he won't feature against the Magpies.
"He is still injured but he's getting better," revealed Guardiola.
"When he is fit he will come to training and the guys who are completely fit with 100% mentally and physicality will have a chance to play in the final.
"Before that we have three games to get information about how the team is and the players to play in the last game of the season."
PREMIER LEAGUE WINNERS | SHOP OUR CHAMPIONS RANGE
Asked whether City being confirmed as Premier League champions with three games to spare helps with team selection and planning, Pep said: "Is what it is. It's important to win the title no matter what.
"Our next game is Newcastle then Brighton and Everton. Then last game is against Chelsea and the best way to prepare for the final is to train good every day."
Pep also revealed how much he appreciated the texts he received from Liverpool boss Jurgen Klopp and Everton manager Carlo Ancelotti.
Both Merseyside bosses contacted the Catalan after Leicester's 2-1 win at Old Trafford confirmed a third Premier League title in four seasons for City.
"I appreciate a lot Jurgen's and Ancelotti's texts," said Pep.
"I couldn't answer the messages yet but I will do today. I appreciate and admire them.
"Of course Jurgen was an inspiration for me, he made the teams with Dortmund and Liverpool and made me think a lot.
"I'd like to say thank you so much, I appreciate it a lot from him and Carlo."
Guardiola also praised Txiki Begiristain for his support and friendship since his time at City - and particularly that of Chairman Khaldoon Al Mubarak.
Asked whether the contract extension that was announced late last year was a catalyst for the terrific form City showed over the next five months, he said: "Yeah in terms of the club it's true when everyone knows the manager will be there it makes stability.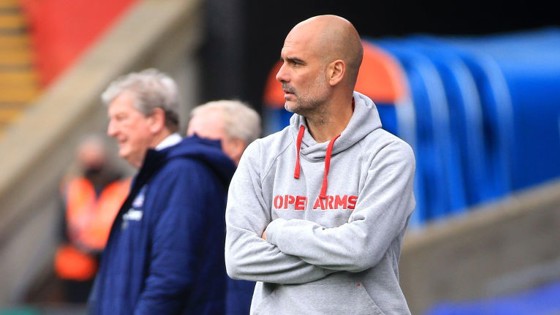 "The culture of the manager that if you don't win you are sacked. Of course the players trust you especially if you win, if you don't win, even for one month and after three years, they see weakness.
"Even in winning in the recent past, if you start to lose they start to doubt, so the best way is to win games. But personally, it's a special gratitude to our sports director Txiki, he's a friend of mine and it would be hard without him and especially Khaldoon.
"I travelled to see Khaldoon in November and we had long discussions together, he said I still had a lot of work to do and I trust him a lot.
"I said 'okay we will try again'. My happiness here is from his determination and we still have stuff to do.
"We started with some ups and downs, that's the big difference, I had the feeling in other clubs, I was supported at Barca or Bayern but I had feelings only of being supported when you have success.
"And when I was here in the first season, I didn't win anything, and I can't forget the disappointment of Lyon, and the support I had from the Chairman.
"We had a lovely chat all together, players, backroom staff with Khaldoon on behalf of Sheikh Mansour.
"Our success is dedicated to him supporting me. Saying that we now have two weeks before a dream come true Champions League final.
"The show goes on next season, we will try to be strong again next season."