Pep Guardiola says he is delighted with the makeup of his squad after a summer of change at Manchester City. 
Erling Haaland, Julian Alvarez, Kalvin Phillips and Stefan Ortega Moreno have all arrived, with Raheem Sterling, Gabriel Jesus and Oleksandr Zincheko all leaving on permanent deals and Zack Steffen make a loan switch to Middlesbrough. 
It has given City a fresh look as we look to make it five Premier league titles in six seasons. 
Guardiola says he is very happy with the balance and quality at his disposal, as well as the atmosphere in the dressing room. 
"Erling and Julian are here and will have a positive effect on our game," he said.
"We scored a lot of goals last season; we won the Premier League and got the semifinals of the Champions League. We were one of the top scorers in Europe.
"So far I am so excited and so happy [with the makeup of the squad]. 
"Sometimes the market was strange for us. Normally we are a team that buy and didn't sell much. This summer for different reasons, we sell some players.
"Sometimes you want to do it but you can't. This summer it happened so quick. not just first-team players - academy and loan players. New players have come and we continue with them.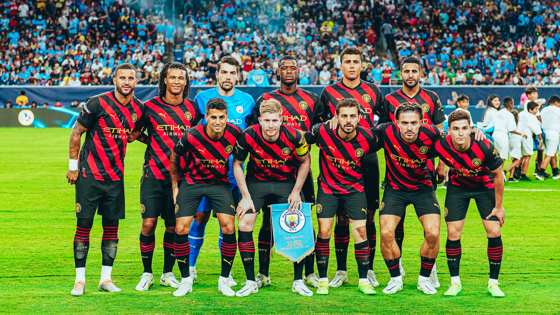 "One of the things I am trying to discover before we buy a player is if he is a nice guy. I don't like to work much with guys who are not nice. When you have a locker room and the chemistry is good, that is worth more than hours of tactics. 
"This summer we have bought some exceptional people. And the rest we know each other.
"And we are sad because Raheem, Gabriel and Oleks were incredibly beloved.
"Since I arrived in Manchester, the chemistry has been incredible. It makes things good for me."
Meanwhile, Guardiola revealed he is in daily contact with EDS boss Brian Barry-Murphy to keep abreast of the fitness of Ilkay Gundogan, Phil Foden and John Stones. 
The trio did not travel to the US with the first-team squad and have instead gone to Croatia with the EDS to prepare for the new campaign.
They will link back up with Guardiola and his staff on Tuesday at the City Football Academy in Manchester. 
The reports from Barry-Murphy have been positive, which comes as no surprise to the Guardiola. 
"They trained really well," he said.
"I have an update every day with Brian, the manager of the EDS.
"Knowing John, Ilkay and Phil, they are like this.
"Tomorrow they come back to Manchester like us and on Tuesday they will start training with us ahead of the Community Shield."
Manchester City's pre-season friendly against Bayern Munich will be available to watch live on CITY+ and Recast.
Pep Guardiola's men face the German giants at Green Bay's Lambeau Field on Saturday 23 July, with kick-off scheduled for 18:00 (CDT).
Green Bay is six hours behind British Summer Time, so for fans living in the UK the game will begin at 00:00 (BST) on Sunday 24 July.
A CITY+ subscription costs £2.99 per month and, in addition to providing access to the second game of our US tour, it also allows you to watch the entire catalogue of City Studios documentaries, full-match replays of every men and women's game and selected live women's, EDS and Under-18s.
Alternatively, you can watch the game on our Recast channel.
Recast is a pay-per-view streaming platform which gives fans easy and affordable access to the sports and entertainment they love.
To access the game, you will need to create an account with Recast and you can find out how to do so, here.
Please note: On both CITY+ and Recast, this game will only be available to watch in the following countries:
UK, Belgium, Finland, Greece, Hungary, Netherlands, Philippines, Romania, Singapore, South Korea, Thailand, Ukraine, Czech Republic, Denmark, France, Iceland, India, Italy, Slovakia, Sweden, Turkey.