Pep Guardiola says Erling Haaland can break the Premier League scoring record across a single season if he continues at his current level.
The Norwegian's brace against Brighton & Hove Albion took his tally to 17 strikes in just 11 Premier League appearances in his debut campaign at the Etihad Stadium.
It means he is just six shy of last year's Golden Boot tally, with less than one third of the season completed.
Former City striker Andy Cole and Alan Shearer share the current record for goals across an entire campaign, each finding the net 34 times in 1994 and 1995 respectively.
Meanwhile, Mohamed Salah's haul of 32 strikes during the 2017/18 campaign is the most scored across a 38-game season.
However, taking any potential loss of form or injuries into account, the boss believes Haaland is more than capable of surpassing that record.
"You don't have to be a genius. If he continues with this rhythm, the average every game he is going to break the record," Guardiola explained.
"But in football, maybe you score and then a few days you stop scoring, you don't know.
"He is happy when the team win and is not when we don't win. All the strikers I have seen in my career like Samuel Eto'o, David Villa, Lionel Messi, [Robert] Lewandowski, Thomas Muller and Sergio Aguero have an incredible ambition to score a lot of goals. That's normal. It has to be there.
"Dortmund and the period there helped him because of the manager he had, the mates he had.
"Hopefully in a few years he will be a better player thanks to the mates he plays with here."
Our 3-1 victory over Brighton also saw Aymeric Laporte make his first Premier League start of the season.
The Spain international underwent knee surgery in the summer, making his return to action as a late substitute in our 6-3 victory over Manchester United at the beginning of the month.
Since then, the defender has continued to regain his sharpness in successive Champions League victories over FC Copenhagen, before lining up alongside Ruben Dias against the Seagulls.
Asked whether Laporte had come through the contest unscathed, the boss explained that facing Brighton's high tempo style places a unique demand on a player.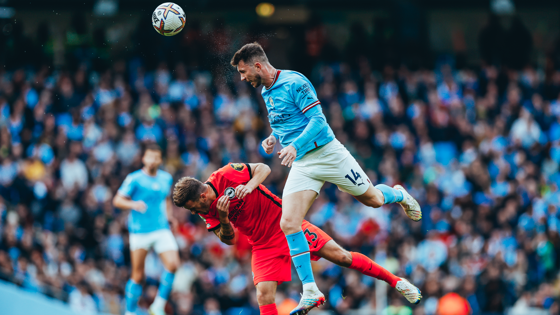 "I didn't speak with him, but he came in quite well in the locker room. He is walking normally. He got a kick and it is a little bit sore," Guardiola said.
"It's important after a big injury that we want to control the minutes. Today was really difficult for us all because Aymer has a man, everyone has a man.
"In that position you have to jump a little bit more, you are not used to that.
"That is part of the quality of the opposition. They demand you to do something unusual. The demand is so high. I admire a lot the way they play [under Roberto De Zerbi].
"[His former club] Sassuolo is not a team on top and they were able to go to Milan, Napoli etc and say 'it doesn't matter'.
"The last three or four games they do not score but they have 50 shots. They will create a lot of problems."