Pep Guardiola insists every member of the City squad is capable of making a decisive contribution in our quest for silverware this season.
Goals from Kevin De Bruyne and Ilkay Gundogan were enough to earn City a 2-0 win at Burnley on Saturday and move back above Liverpool at the Premier League summit in the process.
Asked whether the fine form of both goalscorers and Bernardo Silva could cause a selection headache in the coming weeks, Guardiola stressed that every member of the team still had a part to play in what promises to be a thrilling climax to the campaign.
Indeed, the City boss pointed out that a player can influence the outcome of both a match and a season irrespective of the amount of time they're on the pitch.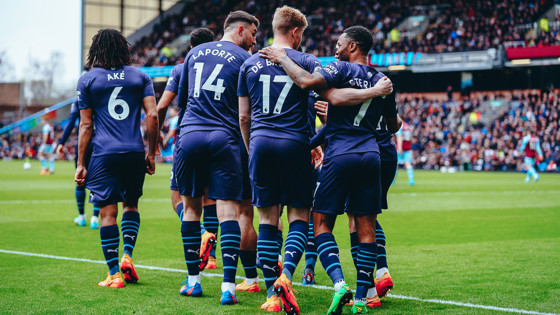 "It's not necessary to tell you how important Ilkay is for us and for me personally, he has to compete with Kevin De Bruyne and Bernardo," Guardiola explained.
"Bernardo was the best we have had this season and Kevin apart from little injuries has arrived in a good moment.
"Even Gabriel Jesus against Southampton, he made an assist and got the penalty that helped us to score the second goal.
"His influence on the team, it doesn't matter when he plays, he had two shots on target and kept the ball, that is what we need.
"The players have to be ready, we look forward and see what we can do. Sometimes players who play ten minutes can win us the title.
"Nathan Ake made the same action as he did against Arsenal away (goal line clearance), he's always ready defensively, this action helped us to win in London and now be top of the league.
"Nathan didn't play much but always he's ready and in this part of the season that could be a decisive moment."
Liverpool's 2-0 win over Watford in Saturday's early kick-off had seen City surrender top spot in the Premier League for the first time since early December.
Victory at Turf Moor ensured we leapfrogged Jurgen Klopp's men ahead of Sunday's showdown between the two sides at the Etihad Stadium.
With just one point separating the two sides ahead of the tie, Guardiola was asked whether the pressure of a closely fought title race had brought a new atmosphere to the dressing room.
However, the City boss simply expressed his delight in us once again entering the latter stages of the campaign fighting for silverware.
He also pointed out that there would be plenty of twists and turns between now and the end of the season thanks to the unpredictable nature of the Premier League.
"Of course, the players feel it but Liverpool feel it too. They know how hard we have fought and how tough the opponent is.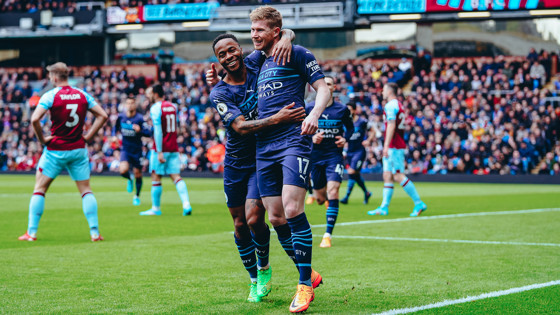 "We are now one point (ahead) but the way we played at Crystal Palace and Southampton we should be in a better position.
"We played awesome, we played much worse in FA Cup but won 4-1, you tell me the reason why? It's football.
"Riyad (Mahrez) is a little bit sad because he is not with Algeria at the World Cup and I said: 'you score in the 118th minute to go to the World Cup and in the 124th you concede to Cameroon and you're out. You can't find explanations, it's football'.
"It's emotions, it's many things, there are no timeouts like Basketball, or in Tennis where you can sit down and reflect after two serves.
"It's football, how many times do you play better and lose?
"But I am proud and after five or six seasons winning, still we are there in the last stages of the season fighting for the title, that means we are a big club.
"Now the players know it, you lose, you lose the competition. They know it and they train like this and of course they feel it. But our opponents will feel it too."
City welcome Atletico Madrid to the Etihad Stadium on Tuesday 5 April in the first leg of our Champions League quarter-final clash.
Guardiola was full of praise for his counterpart Diego Simeone, describing the Atletico manager as a master in the latter stages of Europe's elite competition.
However, he also says he's taken confidence from the way City negotiated a difficult assignment at Turf Moor.
CITY+ | SUBSCRIBE TO ACCESS EXCLUSIVE CONTENT
He declared: "(Simeone) is a master for the knockout stages.
"There are many games during the game, and he handles different types of games perfectly. (Sunday) we start to talk about them.
"(I was a) little worried about this game more than Liverpool.
"I know it's Liverpool but (we had) just one training session, Riyad was sad after what happened (with Algeria), Kevin had 10 days off (so) you never know how we are going to really do.
"That's why I'm more than pleased and we can continue the fight."