Pep Guardiola says City's Champions League clash with Club Brugge on Wednesday evening is the most important game his team will play this week.
With the Manchester derby coming up on Saturday, the City boss says edging closer to the Champions League knockout stages is huge for the Club and the only thing on his mind. 
"It's much more important this game than the United game," said Pep.
CITY V CLUB BRUGGE: BUY TICKETS NOW!
"This game would be an incredible step towards qualifying for the Champions League last 16 while in the Premier League, there are many games - here (there are) just six with three left.
"They are decisive. Games three and four are the most important and you have to take them seriously to make a step forward in our qualification.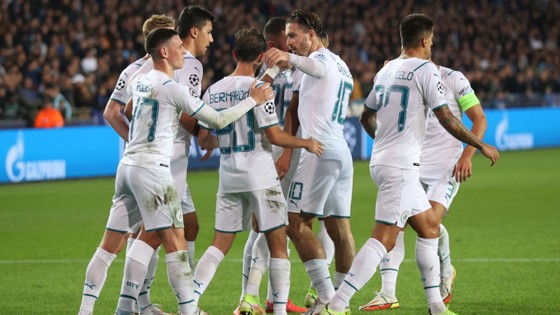 "Of course. Brugge are going to adjust - the manager saw the game (in Belgium). They will punish us and we have to get better.
"It will be a completely different game tomorrow."
Guardiola also said he is happy with the level of his side's performances this season and particularly over the past six weeks – despite the defeat to Crystal Palace at the weekend.
"The defeat on Saturday was tough, we know the calendar and how demanding it is," the boss added.
"I think we are playing at an incredible level.
"The way we are playing in the last month and a half - I would say (is) one of the best moments in the time we have been here.
"The way we are playing, obviously results are the difference but the process and the way we are playing is very good. 
"Every season is tougher. More contenders, more well prepared, top managers. Only my concern was where were our standards as a team - not success and titles.
"From there, build something special, something new and get better. Every team wants to be better - this is the challenge for ourselves to maintain our level.
"This is absolutely normal. 
"But we know what we have done, we want to finish well before the international break at United.
"But it's football – 10 or 15 minutes after disallowed goal. We felt it at 10 v11.
"We know what we face this season. Tomorrow in this important competition to reach the last 16 - tomorrow is the most important game we have." 
The boss also revealed there are no injury concerns other than the long term absence of Ferran Torres, revealing: "Everybody is good."