Noel Gallagher and Manchester City go together like blue and white.
It's hard to think of Noel and not think of his allegiances to the Club he's followed all his life and whether he's at the Etihad or talking about City on TV and radio, alongside music, the Blues are his passion.
Noel and City go back a long way, whether that's back to appearing with brother Liam in the famous Kevin Cummins 'Brother' shirts photoshoot or playing with Oasis at Maine Road and the Etihad.
The latest in a long association between Gallagher and Manchester City is the cover for his new single, 'Council Skies', which is released today (2 June).
The idea was to set up the Noel Gallagher and the High Flying Birds' equipment on what used to be the Maine Road centre circle spot, now the middle of a modern housing estate in Moss Side.
"Council Skies is about growing up on a council estate, but a journalist got the wrong end of the stick and thought the entire album was about the concept of growing up in Manchester, which it isn't," said Gallagher.
"The song itself is about finding young love on a council estate, the hopes and dreams you have underneath, spending each day dreaming underneath the council skies.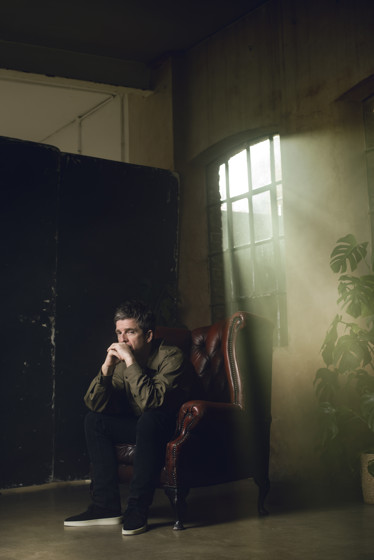 "It's the title of a book by a friend of mine and he allowed me to use it. It just set off a load of images in my head and that is why we ended up doing the cover shot in the on the old Maine Road centre circle.
"As I say, the album itself isn't about growing up in Manchester, but the song is.
"I wouldn't mind appreciating one more big game at Maine Road, but where we are now is me as a solo artist and as a person and as a City fan, these are the glory days."
The cover shot idea originally started life as something completely different and Noel wasn't even aware that anything still remained connected with Maine Road having never visited our former home of 80 years since the Club's departure.
He explains: "What happened was we had the title of the album, so we were doing to do a collage of council estates throughout England, but that was too much of a daunting task, so we were like, 'let's do some of the council estates in Manchester'.
"That was the idea for a while, but then I was at home, and I realised I had never been to the site of Maine Road since it was demolished - ever.
"I just happened to say to my driver to go to where Maine Road used to be and we found it, though it was difficult because you can't get your bearings around there anymore.
"There was someone there saying, "you know that is the centre circle?" I was like 'no way' and I thought 'oh wow, this is the shot.'
"We just set the band's equipment up there, initially it was just going to be that shot, but it doesn't look very inspiring.
"There is a Pink Floyd album cover called Ummagumma where they set up all the band's equipment up outside and I thought that looked cool.
"We had to get permission off the council to do it, but I had Kevin Cummins shooting it for me, so it was two local lads involved - we called Andy Burnham and he gave it the green light.
"On the day of the shoot I said, "you know what, I hope it rains" because if it didn't rain and if it was blue skies, it's was not going to look good.
"As it turned out, there was a light drizzle - light drizzle on a Tuesday evening in Manchester - who would have guessed? - so it all kind of came together, it was all meant to be, I think.
"In the inner sleeve of the record, there are all shots of Cringle Fields near where I grew up, Levenshulme train station, the Apollo and Longsight market and stuff like that."
Sticking with the Mancunian theme, Noel's world tour stops at Wythenshawe Park on 26 August for a huge open air gig.
The irony of his new single and the venue isn't lost on Noel.
"Wythenshawe Park was offered, and I think the organisers plan is that it will be a regular thing every year and they obviously wanted me to do the inaugural one," he said.
"It turned out I was like 'oh wow, I'm going to be doing my first English gig promoting an album called Council Skies on the biggest council estate in Europe.' It was meant to be."
(Photo credit: Matt Crockett / Album Artwork: Kevin Cummins)
Noel's new album 'Council Skies' is out now and available here: https://NoelGallagher.lnk.to/Councilskies!bbc
Noel Gallagher's High Flying Birds Release New Single 'Council Skies' 
Listen Here. Official Video YouTube Premiere Tonight at 18:00 BST. Sign Up Here
Noel Gallagher's High Flying Birds UK Summer Shows
21 Jul Buckinghamshire, Pennfest (Headlining)
23 Jul Nottingham, Wollaton Park Splendour Festival (Headlining)
28 Jul London, Crystal Palace Bowl
30 Jul Brighton, On The Beach (Headlining)
04 Aug Bingley, Bingley Weekender (Headlining)
05 Aug Saffron Waldon, Essex Audley End
19 Aug Monmouthshire, Caldicot Castle
20 Aug Sedgefield, Co Durham Hardwick Festival
24 Aug Somerset, Taunton Vivary Park
26 Aug Manchester, Wythenshawe Park
27 Aug Dublin, Royal Hospital, Kilmainham
30 Aug Hull, Bonus Arena
01 Sep Sheffield, Rock N Roll Circus, Don Valley Bowl (Headlining)
Noel Gallagher's High Flying Birds 2023 UK Arena Tour Dates
14 Dec London, OVO Arena Wembley
15 Dec Birmingham, Utilita Arena Birmingham
17 Dec Cardiff, Cardiff International Arena
18 Dec Leeds, First Direct Arena
20 Dec Glasgow, OVO Hydro
21 Dec Liverpool, M&S Bank Arena
Tickets Available Here