Nigel De Jong believes Pep Guardiola has helped Manchester City to become one of the very best in Europe.
The Catalan steered the Club to a maiden Champions League final in May 2021, and we are once again considered by many as one of the frontrunners in this season's competition.
For De Jong, City have hit new heights under Guardiola's watchful eye since the former Barcelona and Bayern Munich boss took the reins in 2016, both in terms of playing style and application away from the field.
"Pep took City to a different level, the way he has them playing. I think that's the big difference from back in the day," he declared.
"If you look at the technical abilities that he has, opportunities with a new training ground and the players coming in, better players now to bring in as well.
"The food, the diet, the way they live outside of football, the media that comes in and out, he's bringing City to the stage of really competing internationally with the big teams.
"We couldn't compete back then with the Barcelona's and the Real Madrid's. We were a little too far off but on the right way.
"But he really took them to that next stage of international recognition. That's what I think he's doing with City."
De Jong played 137 matches for City between 2009 and 2012, as the Club first began to regularly compete in Europe's elite competition.
The Dutch midfielder's stint at the Etihad Stadium marked an unforgettable period in our history, as we lifted a first major trophy in 35 years with FA Cup victory in 2011, before claiming an inaugural Premier League title the following year.
When asked to single out a particular player who was crucial to that initial success, De Jong pointed out that City's team spirit and collective mentality had a greater impact than one individual.
He said: "I can't just take one player and not put others in the equation.
"If you start from the back, Vinny (Vincent Kompany) was massive for us, colossal, but I have to put Richard Dunne in there too. He was immense as well and great for the club as a captain and one of the starters of going into the success.
"We have to talk about David Silva obviously, Yaya Toure, Gareth Barry was an underrated player, unbelievably important for the team.
"Carlos Tevez, he used to be an absolute warrior up front, then there's Sergio Aguero. I can't just say one player, everyone has different qualities.
"Zaba (Pablo Zabaleta), Gael Clichy, Aleksandr Kolarov, Edin Dzeko, they're all special in their own way. If I had to pick one, I'd just pick the whole team."
Another teammate of De Jong's during that period of success was former right-back Micah Richards, who turned out 246 times for City between 2005 and 2014.
Since hanging up his boots in 2019, Richards has gone on to forge a hugely successful career in the media, becoming one of the most sought-after football pundits.
De Jong is delighted to see what his former teammate has achieved so far, but hasn't been surprised by the impact he's had in his new line of work.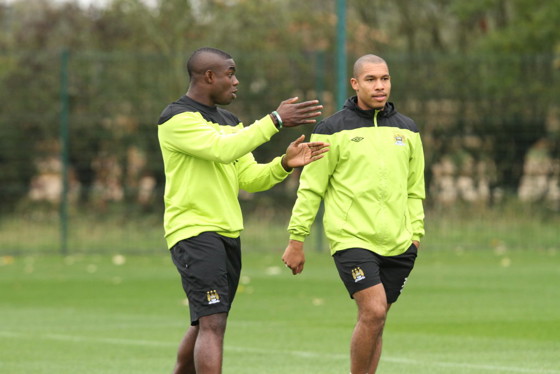 "I was very close with Micah Richards and Joleon Lescott, in particular. We were like the three musketeers," he reflected.
"What makes him so good is his character and charisma, and that laugh, when he laughs you can't not laugh as well!
"Micah's doing an amazing job, he's knowledgeable about the game – which people tend to forget when they see him as this laughable funny guy – he's got a real insight and is really up to date with the game and is aware of what's going on.
"He's a great dude to hang around with you see his charismatic person. (He has) energy and good vibes.
"I think that's why he's doing so well and bless him for going into the right places right now. He's really embraced life away from football and it's good to see."