Pep Guardiola says he is more than satisfied by his players' performance in the 1-0 defeat by Newcastle United.
In a game of two halves – the first dominated by City and the second with Newcastle on the front foot – the injury-hit and much-changed Blues gave an excellent account of themselves.
Guardiola indicated he was unhappy with one or two challenges on his players, but overall he was pleased with his team's efforts.
"First congratulations to Newcastle, for going through," said Pep
"A big compliment to the players, I told them in the locker room, for the way that we played compared to last season against Southampton, we were there.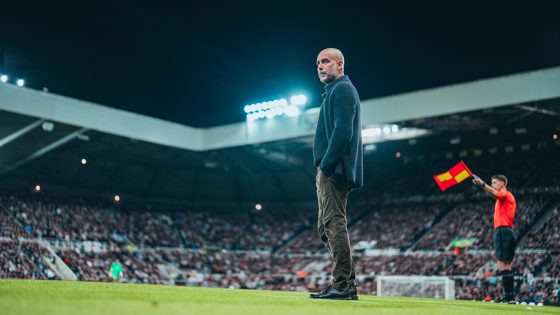 "We were brilliant first half, and of course for the way we played.
"I think Newcastle couldn't accept (our first half dominance), they increased the rhythm and aggression and kicking, and they were there, more aggressive.
"We struggled a little but that's normal. I said at half time the second half will not be like the first.
"I don't know how many fouls they did and how many we did but we had double yellow cards. It is what it is.
"I said to be there in the bad moments and we were there. At the end we could not win, with the crowd. Congratulations to Newcastle
"We have incredible positive things for many, many players for their good play. 
"The competitions we won plus the European Super Cup, we have three more competitions to play in.
"For the rest of the teams, good luck for the Carabao Cup."
The boss also had praise for the excellent Oscar Bobb on his first senior start.
The Norwegian was one of City's standout performers and Guardiola was delighted with his efforts.
"Absolutely Oscar was more than brilliant, in all parts offence and defence," he said.
"He played as a number 10, as a striker, as a winger we know in the pockets in the middle he moves really well.
"His intensity is good, he works without the ball. His ability in the first half was in the action with Julian he was a little bit shy.
"He should have finished the action, but it's normal at that age.
"Also Sergio was really good, all of them, Rico as well and the central defenders - everyone was really good.
"Kalvin played really well. It's not easy when you have a lack of rhythm and tempo. He did it and he was really good."
The boss says his players will now rest and recover ahead of the Premier League game with Wolves this weekend.