Pep Guardiola says it doesn't matter what the Arsenal v Manchester United result is on Sunday.
Though City can reduce the Gunners' lead to just two points ahead of the clash at the Emirates, the boss feels that unless his players are at their best in the coming weeks and months, Arsenal won't be caught by his team.
"It's not about If they lose against United," said Pep.
"If we play as we did (against Spurs) we will not catch them.
"We have to change ourselves. If Arsenal continue to win there will be no more pleasure to congratulate them. It's not about two or three points.
"Slowly, we will find out. I see what they have now with set pieces, they defend in the box with five in the back and win duels with transitions.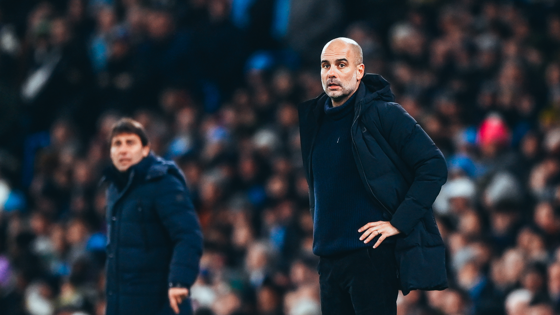 "How they celebrate, how they talk, how they look at each other. This is football. This is tactics. Right now, we don't have it.
"Still we are here. We are second in the table. We are not 25 points behind, still we are there with 57 points still to play – but in this way (first half versus Spurs)? No chance.
"We have the chance to recover for FA Cup, Champions League, next season. It's unacceptable the goal against Liverpool, the second goal against United…
"I am sorry guys, we will be in the record books for many things we have done but that is the past. Now we are here, and our fans want the second half (performance versus Spurs) more often."
How to follow City v Wolves
City v Wolves is not being screened live in the UK, but you will be able to follow the match on our Matchday Centre via the Man City app from 12 noon.
Just before 13:00, our Matchday Live show features Shaun Goater and Paul Dickov in the studio as they share their pre-match thoughts, half-time analysis and full-time verdict.
Alistair Mann and Andy Morrison will guide you through the action with live commentary from kick-off onwards.
There will also be brief match highlights available from 17:45 (UK) and extended highlights at midnight.
A full match replay of the game will be on CITY+ and Recast, also from midnight.