Pep Guardiola says he is proud of his players and the performance they gave in the 2-2 draw with Liverpool.
In a thrilling encounter. City were twice pegged back by the Merseysiders and ultimately had to settle for a point.
But the boss was delighted by the display and also the entertainment both teams gave millions of fans around the globe.
"It was a fantastic game from both sides," he said.
"Both teams tried to win every game in all competition. I have the feeling we missed opportunities to beat them, a feeling that we leave them alive.
"I said to the team after the game, how good they have done, how proud we are. I think it was a good game for fans around the world.
"I am so happy with how we played. Normally when you do many, many good things, you can understand why the sadness would be there. I said forget about it. We were ourselves.
"We performed incredibly well. We could not win but this is football. That can happen.
"Every year we are here in the Premier League, we watch Liverpool in the Premier League and Champions League, we know how they create chances.
"We conceded so few and created a lot against them. Maybe for the last single action we couldn't do it but in general I am so proud of my team.
"I said with Sky in the interview before the game. Winning, losing or drawing will not end [the title race].
"I had that feeling before, but I think both teams knew it was important. We can say we didn't convert chances but the performance was great.
"We know that the opponent will fight to the end. We know that one game dropped and we will not be champions.
"We face Brighton and Watford and we know if we draw we will not be champions. It will be difficult. But for them, too.
"They also have to win all the games. Both teams tried to win the game."
Asked if his players could take the momentum of this game into Wednesday's Champions League second leg against Atletico Madrid, Pep replied: "We have to do it. When we arrive in these stages of all comps we do not have time to rest. We have to play Madrid and then Liverpool again.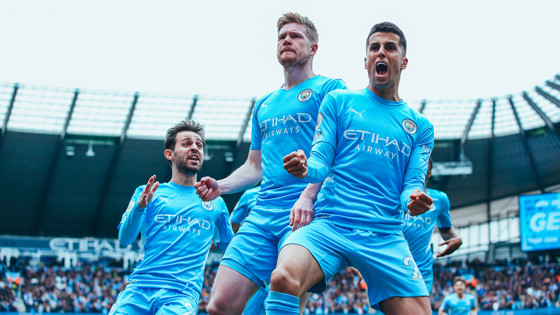 "I could say thanks to the Premier League for giving us an extra day, but how?
"In this country it is impossible. Now we rest and then go to Madrid. No time for training and we'll try to compete as well as possible."
The boss was also asked if the two 2-2 draws with Liverpool this season were among the best performances of his managerial career, he said: "No. I have a long list, my friend! Both were nice.
"The courage to go to Anfield and play. We silenced Anfield for 20 minutes. We've never done that. This is the biggest compliment for me, I am sorry.
"Both games were really good. It happened because both teams wanted to win.
"They defend when they have to but the intention is not to. Both games were really good."