Pep Guardiola says his players are well aware of what is needed if City are to successfully defend the Premier League title again.
A 3-0 victory over Brighton saw the Blues return to the summit 24 hours after Liverpool had briefly gone top on Tuesday evening.
The City boss believes both clubs will continue to exchange blows in the weeks ahead as the season heads towards a thrilling conclusion.
But Guardiola also stressed his belief that failure to win of the six Premier League games that remain will hand the title to Liverpool, who he is convinced will win all their remaining games
"It happened three years ago when we won 14 games in a row to be champion," said Pep.
"That feeling is there. If we win all the games we will be the champions. If we drop points we won't.
"Today we came back against a side who won away against Tottenham and Arsenal.
"They are a quality team, with a system and set up really well. We were so aggressive and we had contact with Kevin and we could run.
"We were patient and in the second half we found a goal.
"I don't think the first half and second half were too different, but we found a goal in the second half. Now three more days and Watford."
CITY+ | SIGN UP FOR EXCLUSIVE CONTENT
Now City know that – with our game against Watford on Saturday and Liverpool's clash with Everton on Sunday – a four-point gap can be achieved with victory over the Hornets.
"Yeah, it's happened before. I remember three seasons ago when we played the 14 games, we played before and had the advantage.
"It happens. We have spoken about that. Forget about it. Liverpool are going to win all the games. It is one month.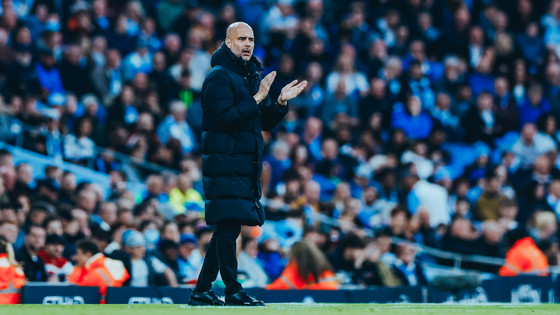 "Liverpool are one of the best sides in football history. We  are facing one of the best sides ever.
"That's why being there means a lot after winning Premier Leagues in the past.
"The players know it. We have faced them, we know. Unfortunately, we could not win against them but I would not change much.
"With (a four-point advantage) we could drop one action, but now we cannot drop anything.
"We have been in this position. We play against ourselves, our action, our nerves.
"I remember against Burnley when Sergio scored after 70 minutes.
"It is difficult, but at the same time I am sure the players will make the step.
"Maybe in five weeks we are able to reach the final of Champions League, but in the Premier League, it is just one month.
"It is not easy, but at the same time we will fight.
"We were 11 months here together for just one month. We are going to have to give everything.
"In your body and your mind and your private life, to give our best."
And looking ahead to the weekend, the boss added: "We know Watford. With Roy Hodgson, he always created a problem with Crystal Palace when he was there.
"After Watford we have three difficult away games with Leeds Wolves and West Ham.
"It is just six games. I am pretty sure we are going to do our best and after that we will see what happens."