Pep Guardiola says Atletico Madrid are far from just being the organised, defensive side they are sometimes portrayed as.
Some observers have painted Diego Simeone's team as a physical outfit who prefer to grind out results, conceding few goals and doing just enough to win matches.
But Guardiola says such assessments don't do Atleti any justice and knows there is so much more to the Spanish champions than just organisation and discipline.
CITY+ | SIGN UP TO ACCESS EXCLUSIVE CONTENT
"There is a misconception about the way he (Diego Simeone) plays," said Pep.
"It's more offensive than people believe. He doesn't want to take a risk in the build-up but they are very good in the final third.
"They are so competitive. It depends on the movement of the game and they know how to play at the exact moment.
"The moment of the game, winning, losing, last minute, early minutes, beginning of the start of second half - in these situations, they are very good.
"They want to avoid risk in neutral areas. They are aggressive and when they win the ball, they play.
"Maybe I am wrong but what I have seen, they don't close up from the back.
"Maybe at times, but not at the beginning. They come for you. They don't close up. If they can, they will press.
"This has been going on for a while. When Luis Enrique played them at Barca, they pressed.
"If they do the process well, you can beat them. But maybe I am wrong. You see them every week. That is my sensations, and my feeling.
"And when you look at the quality of the players, they can do it.
"They will press and then in other moments switch to different formations.
"They are a very rich team tactically. What can we do to annoy them? That's what we will do tomorrow and next week."
Guardiola also says Atleti's performances in La Liga and the Champions League over the last 10 years provides further evidence of how difficult they are to play.
Simeone's side saw off Manchester United in the last round – though were beaten home and away by Liverpool in the group stages.
"They are Champions of the Spanish league," Guardiola said.
"Spain, in the last decade, have had more teams reach the final and win the Champions League. They are the champions. I admire their consistency.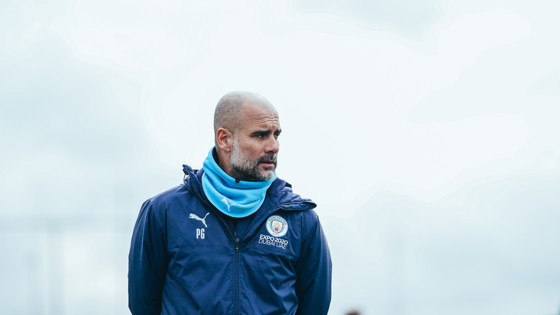 "Twice they win La Liga when normally Barcelona and Real Madrid control it.
"They have been to two Champions League finals which means they know how to handle knock-out stages.
"All the teams are incredibly tough. You face Atletico Madrid or another team who is tough, too.
"It's a football game, we give everything we have and after we will see who is best to go to the semi-final.
"It's not about it being enjoyable, it's about this team, who they are, what we can do to beat them.
"It's not about 'this is better than others'- it is what it is. The draw says we play Atletico Madrid."
And the City boss rejected any comparisons between his team and Simeone's when asked whether it would be a battle of beautiful football versus 'ugly football' over the course of the two legs by a journalist at Monday's pre-game press conference.
"I won't talk one second about these stupid debates," added Pep.
"Everyone tries to win the games, if they win, they will be right, if we win, we are right.
"There are lots of styles in this game, mainly based on the quality of the players."
But, most of all, Guardiola says he wants his players to enjoy the moment and the bigger the occasion, the more they should relish it.

"If you don't want to play these games, you will be out," he said.
"It's a joy and a pleasure to be here. Every season we arrive at this stage, I say if we arrive here in April, May fighting for titles, it's because we have done really well.
"Bad results right now and you are out of the competitions."