"Look at the last 10 years, clubs don't achieve what we've done in this short space of time in their history."
Paul Dickov's assessment of City's third Premier League triumph in four years on We're Not Really Here was exuberant and accurate in equal measure.
On Saturday 29 May 2021, Manchester City will take part in our first ever Champions League final.
The following day represents 22 years since our dramatic Division Two play-off victory over Gillingham.
While Dickov, immortalised by his last gasp equaliser on that day in 1999, had been describing a decade of success since our inaugural Premier League title, the extent of our recent rise is perhaps best demonstrated by winding the clock back a little further.
"I think definitely there's a dark humour around that period," former City skipper Andy Morrison explains about the Club's solitary season in English football's third tier from 1998-1999.
"There's a fondness and there's a warmth from that time, through hardship and adversity, it creates incredible strength."
Indeed, a certain nostalgia remains for City supporters who lived through those trials and tribulations at the turn of the millennium.
Thoughts of a European final ultimately remained fanciful, but there was always a sense of progress as we gradually worked our way back up the English footballing pyramid.
Our famous last day victory over Blackburn soon followed in May 2000, as City secured promotion back to the top flight in front of a sea of blue at Ewood Park.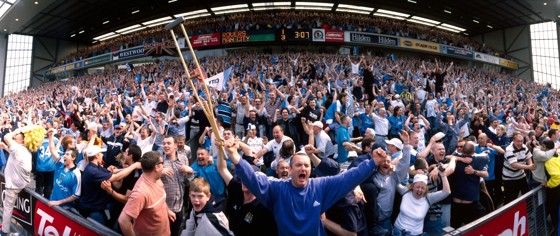 And while Joe Royle was unable to avoid relegation in the subsequent campaign, things once again clicked when Kevin Keegan took the reins.
"What a season, it was probably my favourite season of my whole career," former City midfielder Kevin Horlock reflected on the 2001-2002 campaign in a recent episode of We're Not Really Here.
"We were the entertainers that year, it was an unbelievable season.
"Some of the games, some of the goals, we went out with that arrogance that we knew we were going to win.
"I felt accountable for where the club had gone to, and I'm sure some of the other players that were on that journey too felt that way.
"We got the club back to the Premier League again, I was buzzing we were back."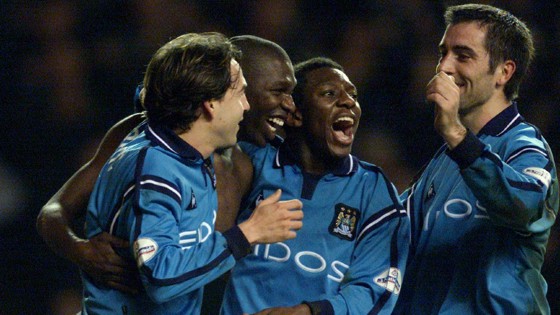 And the view from the terraces on that period certainly mirrors Horlock's assessment.
Lifelong City supporter, Murd, believes the improvements both on and off the pitch during this time were essential in building a solid foundation from which to build.
The 48-year-old gives huge credit to former Chairman, David Bernstein, and insists that he provided the sound financial footing necessary to allow the team to flourish.
"When Bernstein took over, I think that gave us a real sensibility and calmness," he reflects.
"We knew what we were doing, he made bold decisions and it was great.
"The football was good as well and we were progressing on the pitch.
"And then obviously entailed in all of that was getting the move to the stadium, which was one of the reasons why HRH Sheikh Mansour bought us.
"We were progressing really well on the pitch but off it we were doing the right things as well."
Slowly but surely, City were becoming an attractive proposition for big names across the footballing landscape.
Speaking on We're Not Really Here, former striker Shaun Goater revealed the moment that he began to notice the growth of the Club during the latter stages of the Keegan years and beyond.
"Our best season was finishing ninth, but we were up and down, we were typically a mid table Premier League team.
"We then started to invest in quality players; George Weah, Nicolas Anelka, Robbie Fowler, these big names started to come in.
"Slowly but surely we were looking to invest and improve.
"But roll on today, if you had told me the brand of football we play, the world class footballers we have, the best manager in the world, I wouldn't have believed you. Pep has changed football."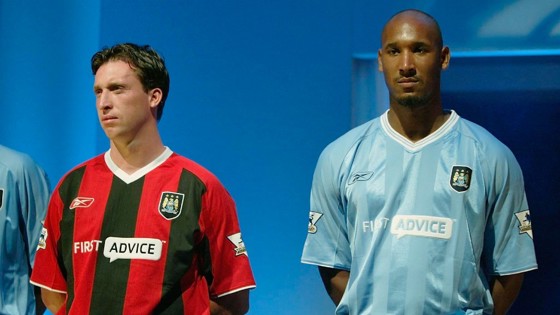 "You don't often look at it through the lens of then and now," City supporter, Tom, says when asked for his earliest memories of the Club.
"It's always about moving onto the next thing, it happens incrementally.
"But when you look at the big picture, it is crazy (how far we've come).
"I feel really lucky, I feel like I'm probably the last generation who went through school growing up with the 'old City', it just seemed like a completely different world away."
SUBSCRIBE TO THE OFFICIAL MAN CITY PODCAST
The big names kept on coming through the door but, rather than simply being signed on reputation, players were recruited to enhance a burgeoning style, honed and refined as the 2010s loomed large.
By the summer of the South Africa World Cup, that style of free-flowing, attacking football was becoming a mainstay.
But it was perhaps epitomised best by the £30 million signing of a City legend from Valencia in late June 2010.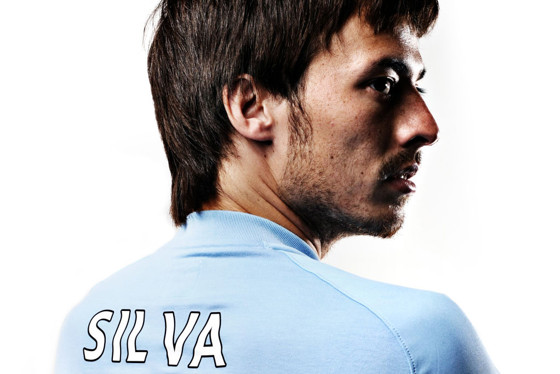 "We were playing a pre-season game, David Silva's on our team," Nedum Onuoha recalls from an early exchange with El Mago.
"He had someone on his back like a foot away, I played the ball away and he had a go at me saying 'why didn't you give me the ball'?
"In my early days we used to have the ball at the back and you'd see a lot of numbers because people didn't want the ball. You went long and went for the second balls.
"I was like 'oh my god, this is different!'."
Fellow City defender Joleon Lescott recalls a similar scenario 12 months previously when he joined the Club from Everton.
"On my debut I gave the ball to Robinho and was all excited, but I also wanted to showcase that I could play it long," he remembers.
"(Emmanuel) Adebayor made a run and I played this clean ball over the top.
"He's looked at it, turned around and shook his head. So I was like 'okay, I'll play to feet'."
Lescott's anecdote, recounted on We're Not Really Here, was told with a hint of tongue-in-cheek humour, but a philosophy was clearly being established at that time.
And in 2011 City finally smashed the glass ceiling, claiming a first major trophy in 35 years when we edged out Stoke City in that season's FA Cup final.
The most dramatic of Premier League titles followed twelve months later, marking a watershed moment in the Club's already celebrated history.
"My brother still talks about that moment," Murd reflects on our last gasp title victory against Queen's Park Rangers in 2012.
"When that (Aguero) goal went in, it was a huge weight off of his shoulders.
"He says it now, he even walks differently after that goal because he's just a happier person!
"He always says: 'I knew it wasn't all for nothing'."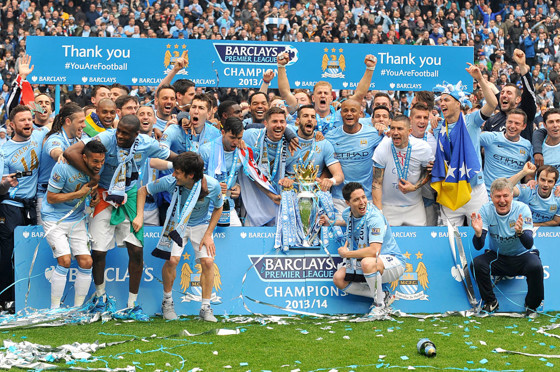 Manchester City had once again reached the domestic pinnacle, but now it was time to cement our place in the English footballing pantheon.
A Premier League and Carabao Cup double followed in 2014 under Manuel Pellegrini, with the engineer quite literally establishing the footballing epitome of a well oiled machine.
It was a hugely successful period for the Club, and one that will always be looked back on fondly, but the thirst for a sustained tilt at European silverware was yet to be truly quenched.
"Even up to the last few years it still felt quite unattainable," City fan, Tom, declared about his early memories of our ventures into the Champions League.
"We were always in the competition and got to a semi-final under Pellegrini, but you never really felt like we were going to threaten it.
"I just felt like as soon as we came up against someone world class, we'd get beaten."
The turning point? For Andy Morrison, much of that responsibility rests on the shoulders of Pep Guardiola.
"We've had some incredible managers and some incredible leaders at this club, but he's taken it to another level," the former City skipper declared after our title triumph.
"We've raised the profile of the club since Pep came in 2016.
"He's one of the best but he's still hungry, still wants to break more records. He doesn't see himself as a runner up in anything."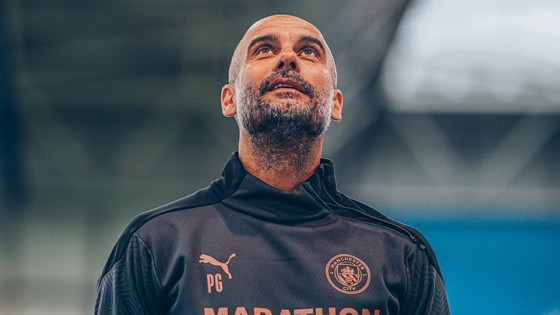 After a season of acclimatisation, Guardiola's City set to task on forging a reputation as one of the greatest sides to grace the English game.
The 2017-2018 vintage became the first side in Premier League history to reach 100 points in a single season as we claimed the title with five matches to spare.
There was no let up in the following season, with an unprecedented domestic clean sweep secured in legendary captain Vincent Kompany's final campaign at the Etihad Stadium.
And after finishing second in a year curtailed by the Covid-19 pandemic, City were back to our brilliant best this time around.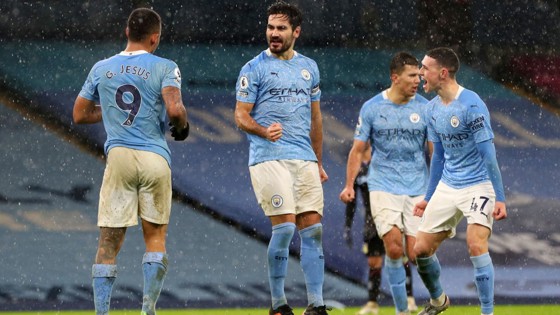 A club record 21-game winning run in all competitions between December and March helped us on our way to yet another Premier League and Carabao Cup double.
For Shaun Goater, the level of success comes as no surprise.
"Under Pep we've gone to another level," he stated.
"He has evolved the game to another level. We are spoiled as City fans.
"It's just phenomenal, I'm really privileged to witness this and be a part of it."
CITY+ | WATCH FULL-MATCH REPLAYS OF EVERY CITY GAME
In a season of superlatives, the last piece of the puzzle sits tantalisingly within City's grasp.
After three successive quarter-final exits, we'll make our debut in the Champions League final; a first European showpiece in a record 51 years.
Our monumental journey, from Division 2 to the promised land in 22 years, cannot be overstated.
For Murd, it would be the culmination of and arduous but hugely rewarding journey as a Manchester City supporter.
He said: "To be the best team in Europe, and being there every season of that journey, it would all be worth it.
"This is why I do it, this is the end result. I'll have to pinch myself when I'm in the ground on Saturday and I hear that music.
"I honestly think typical City went out the window after the Aguero goal, it tried to creep back in a few times in the Champions League but we've finally shut that window with this."