A look at some of the best stats to come out of Manchester City's captivating 4-3 Champions League semi-final triumph over Real Madrid.
The two sides served up what will go down as one of the competition's classic encounters, with Pep Guardiola's men eventually coming out on top under the Etihad Stadium lights.
City, aiming to reach back-to-back Champions League finals, were pitting our wits against the most successful side in the competition's history.
And an already eagerly anticipated match more than lived up to its billing.
Discover some of the impressive statistics and milestones from the encounter below…
93 seconds
Pep Guardiola's men got off to a dream start at the Etihad Stadium when Kevin De Bruyne headed home the opening goal inside two minutes.
At 93 seconds, the Belgian's strike was the quickest that City have ever managed in our 101 Champions League matches to date.
Furthermore, it was also the earliest semi-final goal in the competition's history to date.
Double trouble
Conversely, City's lightning-fast start to proceedings left the visitors with an unwanted record.
Indeed, goals from De Bruyne and Gabriel Jesus saw Pep Guardiola's men race into a two-goal lead inside 11 incredible first half minutes.
This was the earliest that Los Blancos have conceded twice in a Champions League match, beating the previous record of 16 minutes against Atletico Madrid back in May 2017.
Happy hunting ground
City failed to beat Madrid in each of our first four meetings but have since gone on to win our last three encounters with the 13-time champions.
Los Blancos have locked horns with Manchester United, Liverpool, Arsenal, Chelsea and Tottenham during the Champions League era, but no other English club has won more than two matches in total against Carlo Ancelotti's side in the competition's history.
CITY+ | SUBSCRIBE TO ACCESS EXCLUSIVE CONTENT
Fantastic Mr. Foden
It was a truly memorable night for Phil Foden, whose second half goal saw him reach two significant milestones for his boyhood Club.
No English player has now found the net in the Champions League more than the midfielder before the age of 22, with his ninth strike seeing him draw level with Wayne Rooney.
Foden is also only the second Englishman to score in a Champions League semi-final before the age of 22, again seeing him match Rooney's record from 2006/07.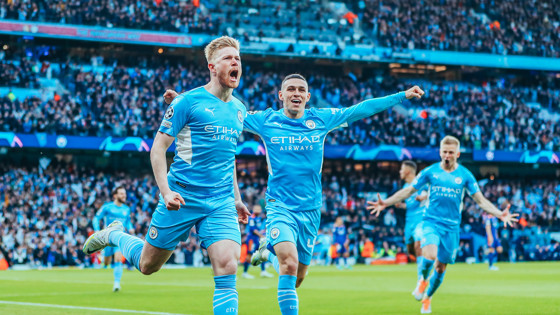 De Bruyne delight
It's no secret that Kevin De Bruyne consistently turns up on the big stage for Manchester City, and his recent run of Champions League goals demonstrates that point perfectly.
The Belgian was on target once again at the Etihad Stadium against Madrid, meaning than nine of his 12 goals in Europe's elite competition have come once City have progressed from the group stages.
That already astonishing figure becomes all the more impressive when considering that each of De Bruyne's last seven strikes in the Champions League have been in the knockout stages.
Champions League classic
City 4-3 Real Madrid is the joint-highest scoring Champions League semi-final in the competition's history.
Only Ajax 5-2 Bayern Munich (April 1995) and Liverpool 5-2 Roma (April 2018) can match the number of goals that were served up in our classic encounter at the Etihad Stadium.