Pep Guardiola says his players are delighted to progress to the last 16 of the FA Cup after a hard-fought win over Arsenal.
The boss also believes the victory will have little bearing on the Premier League clash at the Emirates in mid-February, saying he believes both teams will change their tactics and some players, too.
"(My players) are incredibly happy," said Pep.
"It's not the Premier League, it's another competition. We are happy to be there after beating Chelsea and Arsenal in the first two rounds.
"It will be a completely different day in Emirates. Mikel doesn't rotate much in the Premier League.
"The impact from Oleks, Ødegaard…. we know it's going to be different with more pressure.
"Now we have days off until the next game. Time to rest a bit and prepare a final against Spurs again.
"Game by game. FA Cup is an important competition, and we are so satisfied, but this (result) will be forgotten by them when we are there."
Expanding on the tactics that saw a cagey battle, the boss said. "It was a tight game. A difficult one. We knew it would be for their quality.
"The second half was better apart from 10 minutes after the goal. When Bernardo and Kyle came on it was much better and Julian as well.
"I didn't expect their approach to go man to man and it made the process difficult.
"Stefan Ortega makes a good delivery so in the second half we contacted Erling more than usual.
"Now I know they can do it [man to man marking] when we go there.
"Martinelli is an incredible weapon. Ødegaard plays in the pockets.
"They are a really good team otherwise they could not be where they are. They are aggressive, they know exactly what they have to do.
"All the little details they control really well. We had to defend really well and be good in the set pieces.
"We knew it would be a difficult game, but we were able to beat them and go to the next round.
"They saw what we can do. We saw what they can do. Maybe we change something, especially for the players that we select.
"When you play man to man Rico is not as necessary like for example Kyle.
"Jack was brilliant. Erling - it was a tough game for him. We did everything against an exceptional team.
"All the managers try to do good things, but this game was open and we needed guys in the middle with good movement to attack the space.
"Julian is good defensively and offensively as well. His impact on this game was brilliant.
"I am delighted because I know he can play with Erling.
"It was a good victory; the next round, we will see."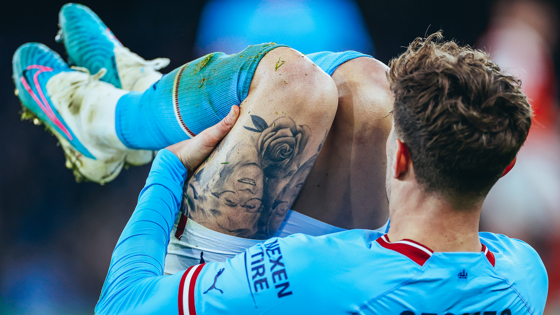 And on John Stones' departure with injury, Pep says it possibly could be a hamstring issue, adding: "Today he was not ready. I saw it in the first minutes. Maybe he was tired. Today was not ready and when that happens you get injured."