Manchester City are today thrilled to unveil permanent statues of Club legends Vincent Kompany and David Silva at the Etihad Stadium.
Emerging from darkness into first visible light at day-break this morning, the statues were revealed to fans around the world with a specially commissioned video to mark the occasion.  
Situated on the east side of the Etihad Stadium, the large scale statues of Kompany and Silva were created by award-winning sculptor Andy Scott and have been constructed using thousands of welded pieces of galvanised steel.  At night-time the statues will be specially illuminated with blue tinted lighting.
Born and raised in Glasgow and a graduate of the city's School of Art, Scott is one of the most respected sculptors of his generation and is known for his large-scale figurative pieces, which he creates by blending traditional craftmanship with modern fabrication techniques. His portfolio of more than 80 contemporary projects can be found both in the UK and in many corners of the world.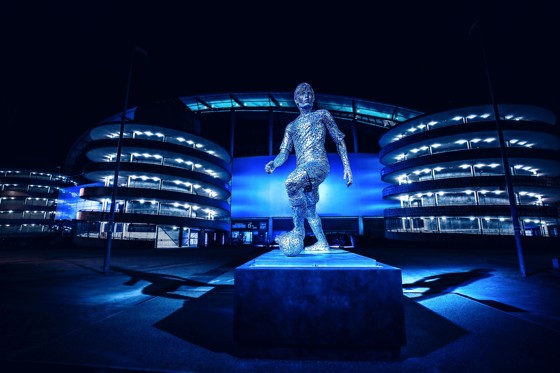 Now creating from his studio in Philadelphia, USA, Andy counts The Kelpies and Beacon of Hope amongst some of his most celebrated work.
Uniquely, the Kompany and Silva projects have been conducted entirely remotely from Scott's securing the commission in June 2020, through to creation, completion and transportation of the pieces by Etihad Cargo from Philadelphia to Manchester earlier this month.  
Now installed at the Etihad Stadium, the permanent statues provide a visible reminder of the instrumental role both Kompany and Silva played in contributing to the most decorated era in the Club's 127-year history.
Commenting on the statues following their installation at the stadium Andy Scott said:
"It's an exciting thing to be a part of, creating something that becomes part of that landscape that means so much to so many people. Football projects in particular engender and embody that sense of pride that people have for a place and a club.
"I hope that Manchester City fans enjoy these artworks and appreciate them as a celebration of these two iconic footballers. I've been deeply honoured to have been asked to do them, and I've done my level best to do justice to them and their achievements."
Manchester City's Chairman, Khaldoon Al Mubarak commented:
"Fans at today's game are among the very first people to see the statues in person and up close, and I hope they provoke memories of the truly magical moments created by both men over 10 years.
"Andy's skill not only captures the strength and athleticism of both David and Vincent, but his contemporary approach, together with his chosen medium of industrial materials, make his work completely in keeping with the DNA of Manchester City.
"With work already underway, we are all looking forward to honouring the legacy of Sergio Aguero in the same way next year, giving generations to come the opportunity to be reminded of the era of city football to which all three men were so integral."
Vincent Kompany said:
"I didn't really expect to be recognised by such a great club in that way. My wife is from Manchester, my kids are born in Manchester, and they go back to a place where they can see something that represents what their Dad has achieved and that is something that I can't describe.
"The first time I saw the statue I couldn't believe how big it was, but then again, I'm a big boy, so fair enough! And then especially the pose, for me it means a lot." 
David Silva said:
"Being at City changed my life. I'm proud of what we did together and I feel emotional that it has been recognised like this.
"When I first saw the statue, I felt good, I thought it was like me. This statue really represents the way I like to play, I love the pose the sculptor has chosen. It really reminds me of those times I was on the pitch playing and that moment when I had to find the striker."