Ilkay Gundogan has revealed he rarely practices taking free-kicks in training.
The German midfielder curled a sweet shot over the wall to give City the lead against Porto – moments after Pep Guardiola was preparing to take him off.
"I have to admit, I don't practice free-kicks a lot, but there are certain distances that I feel comfortable from and for me, this was the perfect range," said Gundogan.
"I had a little discussion with Raheem and he was happy for me to take it and obviously I am very happy that I had the opportunity to score.
"As for the fact Pep was about to substitute me, I'm glad he didn't!
"I was actually quite sure he was going to take me off, but he maybe saw an opportunity for me and waited."
Gundogan admitted City's injury problems are a cause for concern with such a packed autumn and winter schedule to come.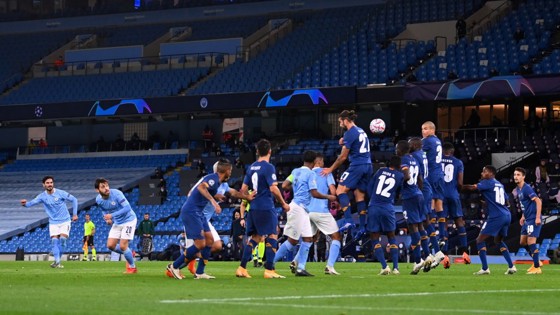 Fernandinho is the latest casualty after limping off towards the end of the game and Nathan Ake dropped out of the squad earlier in the day.
"If I'm honest, we are struggling a little bit with injuries and to lose Fernandinho towards the end of the game is another blow," he said.
CHECK OUT OUR 2020/21 LEISUREWEAR
"There are others, of course, plus some who have just come back and I myself am not fully there yet after having COVID-19.
"We are in different kinds of moments fitness-wise and that's the challenge this season and I don't think it will end for a while."
"We are glad we have a big squad but the bottom line is everyone is not there yet."
And of tonight's victory, the Germany international admitted it wasn't an easy opening to the group stages.
"We struggled in different periods of the game and we went behind which made things more difficult," he said.
"We played quite well in some moments but there were some areas we need to improve.
"The most important thing is we started well and we have the three points in this competition."