Pep Guardiola says he is "incredibly proud" of his players despite losing to a last-minute Leicester penalty.
With more than half-a-dozen players who featured regularly last season still not even back training yet, the City boss named a team that included teenagers Cole Palmer and Sam Edozie.
After an even first-half, City were unlucky that a dominant second period didn't yield a goal and Kelechi Iheanacho's late spot-kick won the Community Shield when a penalty shoot-out beckoned.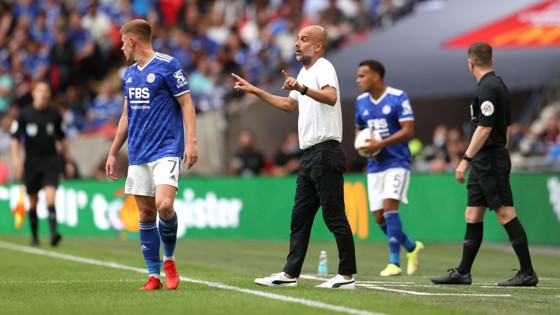 "I would have loved to have won the game," admitted Pep.
"Congratulations to Leicester for the Community Shield victory. Our performance was really, really good, especially for this stage of the season and the way we played in the second half was so good.
"The game was well played. They had chances, we had chances and in the second we were so good.
"The courage of the young guys Sam and Cole and the control we had - they only had long balls in the second half.
"They are important players. What I like about them, - Cole was exceptional all game - but when they lost one ball, they tried and tried again.
"In the first half Pereira won the duels with Sam, because he is a top player, but in the second half Sam was better.
"They both like to dribble. They were both exceptional on a big stage at Wembley. They were so good. Congratulations to the Academy.
"They provide me with huge talents. They are working to provide me with good players and we are delighted.
"In general given the short preparation time we had, all the loan players, all the Academy players have been exceptional."
The boss was also asked if he felt his team would have enough preparation for next weekend's Premier League opener against Spurs.
The Catalan said he felt there were strong similarities between this season and last season's truncated pre-season.
"We will arrive like it happened like last season, late," he said.
"Because UEFA and FIFA are not allowed to give time to the managers and players to rest.
"Tomorrow, players will arrive. Many of our players  have played just three training sessions. Day by day, month by month we try our best to compete as best as possible.
GET YOUR GREALISH #10 SHIRT NOW!
"We will try our best, knowing we will not be at our best. It happened last season at Wolves and we lost 2-5 at home to Leicester.
"We know we will not be at our best. The players will be better next Sunday. Before the international break we want to get as many points as possible to be there and after week by week, I am pretty sure we will be better
"What I saw today I am incredibly confident for the season.
"I saw many good things. We didn't play badly. I said to the guys how proud I am. But this business you must win. So we congratulate the opponent and think about next week."
And of Jack Grealish's impressive cameo, he said: "It was good. Really good. He was aggressive against the full backs. He will get to know his mates and step by step he will find his best."