Chairman Khaldoon Al Mubarak has told City fans to expect a new statue outside the Etihad Stadium.
City installed major works of Vincent Kompany and David Silva in front of the East Stand in August 2021 before Sergio Aguero was added earlier this month.
Now, a new statue celebrating a previous great era for the Club is in the works.
Speaking in the second half of his annual end of season interview with CityTV, the Chairman confirmed plans are progressing for a new work paying tribute to Colin Bell, Francis Lee and Mike Summerbee.
"We've had the statues of Vincent Kompany, David Silva and Sergio Aguero," he said.
"These three reflect the most successful era in the history of this club.
"But there are other very successful eras and I think remembering Colin Bell, Francis Lee, Mike Summerbee is very important. This Club has a great history.
"These are players that have contributed immensely to this Club. They've earned the right to be appreciated forever, eternally with statues.
"I won't say too much until it's done but what I will say is these three legends will be properly respected and represented in a work of art that all the fans of this Club will be able to see."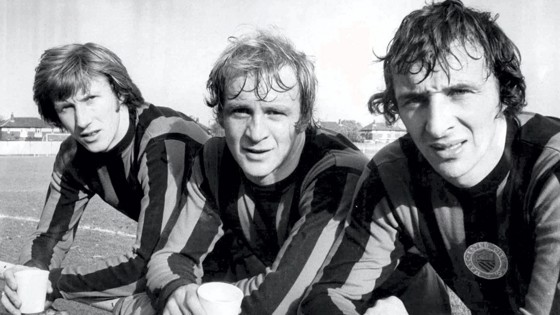 Bell, Lee and Summerbee are widely regarded as three of City's greatest ever players.
All were pivotal in the 1960's and 70's as we won all three major domestic honours, as well as the 1969/70 European Cup Winners' Cup.
Bell's legacy is already a special part of modern-day City.
His name adorns the West Stand at the Etihad Stadium and the 2022/23 PUMA home kit was inspired by 'The King'.
In total, he made 501 appearances for City, scoring 153 goals.
Lee played 247 matches for City between 1967 and 1974, scoring 112 times, while Summerbee, now an ambassador for the Club, played 347 games and found the net on 47 occasions.
In the more immediate future, the Chairman is excited for the Club to return the United States in July for our first pre-season tour since 2019.
After what he described as the 'incredible challenge' of guiding the Club through COVID-19, the Chairman expects the Club to continue to go from strength-to-strength – with the upcoming tour a key part of that.
Pep Guardiola's squad will face Club America and Bayern Munich in Houston and Green Bay respectively as part of our preparations for the 2022/23 campaign.
CHAIRMAN'S 2022 INTERVIEW: PART ONE
"Well, it's great after three years of COVID to go back to some form of normality," the Chairman stated.
"The human interaction of going back and having a proper pre-season, the ability to have a pre-season without any other competitions, really having the whole group together is a great opportunity.
"It's a place that has a huge Manchester City fanbase. I know Pep and the team are really excited about, interacting with the fans and playing in two of the most iconic stadiums in the United States."
Having praised the impact of men's team stalwart Fernandinho in the first half of his interview, the Chairman also spoke about the influence of Karen Bardsley and Jill Scott on our women's team.
Both players signed for the Club ahead of our first season in the top-flight in 2013 but will move on this summer.
Goalkeeper Bardsley has retired while Scott will seek a new challenge in the game.
He said: "Both Karen and Jill have given immense contributions to our women's team over the years from the beginning. They are considered legends in this young history of our women's team.
"So, it's a big loss for us but we thank them for what they've given to the women's game and also to Manchester City women's team and wish them all the best in the future.
"They will always have a place with us and hopefully we will always be able to remember them in the way that they've performed so uniquely for this Club."