England midfielder Kalvin Phillips has become City's third signing of the summer, following Erling Haaland and Stefan Ortega Moreno to the Etihad Stadium.
The 26-year-old has signed from his boyhood club Leeds United and will be part of Pep Guardiola's squad for the 2022/23 season.
Here are 10 things you may or may not know about our new man…
BACKGROUND
Phillips was born in Leeds on 2 December 1995.
He told Sky Sports in October 2021 that he is a 'quarter Jamaican, quarter English, quarter Irish and I don't know about the rest'. That meant that England man Phillips could have also selected to play for Jamaica or Republic of Ireland on the international stage.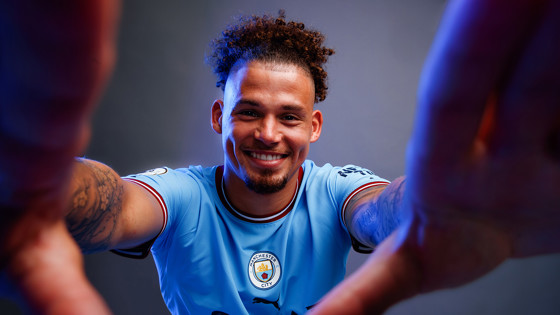 GRANNY VAL
Phillips praises his mum and granny Val for helping him get to where he is today.
With his mum, Lindsay, often working two jobs in order to feed the family while Kalvin and his siblings were young, the children would often stay with their grandmother.
Our new man said this about Val after she died in February 2021: "She's always been there for me and my family whenever we needed her. We have a big family and she was there for everyone.
"She's always been there to humble me and make sure I don't become a person I'm not. That's a major thing in how our family works: we're very humble people, very hardworking people, the more people that meet us, the more people realise how much gran had a big effect on our family."
ACCIDENTAL SCOUTING
Phillips has been a one-club man during his professional career, but it was a coincidental moment that saw him sign for the Elland Road club initially.
The manager of his first side Wortley Juniors, Ian Thackray, recalled that moment to Yorkshire Evening Post in 2020.
"He'd been away on holiday. His family were coming home on the day we started a two-day tournament but Kalvin turned up to watch anyway. All the lads wanted him to play and one even gave him his kit.
"A Leeds scout was wandering up the touchline. Kalvin tackled this young kid right in front of this scout – he 'did a Kalvin'.
"The scout just looked at him, then me and wandered off a bit bemused I think. I got a phone call a week later asking for his details and the rest is history. In any walk of life you have to be in the right place at the right time."
LOVE OF A LEGEND
Phillips says his childhood hero is basketball icon LeBron James. The 4x NBA champion and 4x NBA Finals MVP is particularly loved by basketball fan Phillips, who has watched his career unfold as he has grown up.
"I want to be like him. I want to be as professional as him and train every day to be as good as I can be," said Phillips to Sky Sports last year.
INTERNATIONAL FROM THE SECOND TIER
When Phillips started England's UEFA Nations League clash with Denmark in September 2020, he became only the third man this century to play for the Three Lions before featuring in a top-flight game – following in the footsteps of Jack Butland and Wilfried Zaha.
His place was hard earned, having been named in the PFA 2019/20 Championship Team of the Season.
SPECIAL DONATION
Former Leeds boss Marcelo Bielsa is admired by many in the game, including Pep Guardiola and our new man Phillips.
Having made Phillips a key man in his Leeds team that was promoted to the Premier League, Bielsa celebrated the midfielder's call-up by giving him a Newell's Old Boys shirt from his collection.
In return, Phillips gave the manager the England shirt worn on his international debut.
ENGLAND PLAYER OF THE YEAR 2020/21
Our man was central to England's run to the final of last summer's European Championships, starting every match for Gareth Southgate's side.
His performances were clearly appreciated by the public as a vote of more than 40,000 people saw him named England's Player of the Year for the 2020/21 period that included that tournament.
ALL-ACTION
With 28.42 pressures and 3.67 tackles per 90 minutes according to FBref, Phillips was a player it was almost impossible for most Premier League rivals to bypass in 2021/22.
His pressures statistic places him in the top 2% of players across Europe's big five leagues and number of tackles into the top 3%. On top of that, he is in the top 4% for his blocks – at an average of 2.37.
While he has obviously garnered attention for his calm, precise passing, this shows just how much of a defensive giant Phillips is.
PIRLO'S MESSAGE
Phillips' composed style of play at the base of midfield has seen him earn the nickname 'Yorkshire Pirlo' from Leeds and England fans alike.
However, it was still a shock to our new midfielder when he received a message out of the blue ahead of last year's Euro 2020 final against Wembley.
Organised by Leeds team-mate Jack Harrison, who played with Andrea Pirlo at New York City, it featured a video from the Italian.
'I just got the video the night before the final and I was like ''Oh my God!'' said Phillips.
"It was saying good luck in the final and he wishes me all the best. It was a very nice feeling."
FOUR LEGGED FRIENDS
Away from football, Phillips says he is a gamer. However, it's his love of dogs that has drawn the most attention.
When he popped along to a pop-up Dachsund café in Leeds last year, he and his sausage dog helped the event go viral.
You'll see plenty from Phillips about his dogs on Instagram (@kalvinphillips) and TikTok (kalvinphillips23).