Julian Alvarez says it's a pleasure to play alongside Erling Haaland after the strikers joined up at Manchester City in the summer.
The Argentinian is set to start the final Champions League group game against Sevilla on Wednesday night with Pep Guardiola confirming that Haaland is still recovering from the injury that ruled him out of the 1-0 victory over Leicester City at the weekend.
Haaland's incredible start to his City career, with 22 goals in 16 matches, has cemented his place in the side, but the pair have also started together three times already.
City v Sevilla | Match preview
Among them was the 6-0 victory over Nottingham Forest when they found the net five times between them and Alvarez says he has enjoyed playing with the Norwegian.
"First and foremost, it is a privilege playing alongside him," Alvarez said.
"It's always great to play with the best players in the world. We are as old as each other sure, but I think we can learn from each other.
"I like him and we always want to bring the best for the team."
Alvarez has had to be patient for his opportunities, but he has started City's last three games in the Champions League helping them secure top spot in Group G ahead of the final game against Sevilla at the Etihad Stadium.
The former River Plate forward rejected comparisons with Haaland, saying his style of play is different.
"Yeah, of course we are very different players," he added. "People have to adapt to different styles when different players line up.
"I occupy different positions on the pitch. At River I had team-mates who were big players, so I trust myself and trust my own ability. The other players trust me too."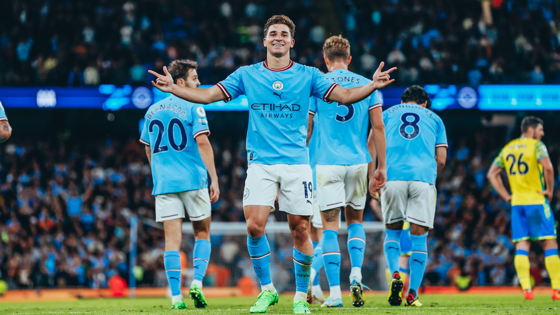 Being part of a stellar squad is nothing new to Alvarez, who is expected to be part of the Argentina group heading to the World Cup later this month.
The 22-year-old will join Lionel Messi in Qatar – a player that Alvarez says is the best in the world and one of the reasons why Guardiola told his striker that Argentina is his tip to lift the trophy.
You learn just by watching him," he said. "It's difficult to copy him but we know what he has done and is the best player in the world.
"I am lucky to share a changing room and pitch with him. I now have a chance to play alongside him."
On Guardiola predicting Argentina success, he added: "It came out when we were having a chat, I don't know if he said it with conviction!
"It was a while ago now. We are on a good road but every game in a World Cup can hurt you.
"We have a chance, we are confident and we believe we can have a good tournament."