John Stones was not surprised by Manchester City's convincing performance in the 2-0 over Manchester United at Old Trafford.
The England centre-back grabbed his first goal since the 2018 World Cup to open the scoring in the 49th minute, before a spectacular Fernandinho volley put the game to bed seven minutes from time.
And while he admitted that the hosts caused some problems, Stones struggled to find a fault in the team's display as we booked our place in a fourth consecutive Carabao Cup Final.
He reflected: "I thought in the first half, how we set the tone and how we played against such a good side… we dealt with that so well.
READ: Guardiola hails 'special' impact of Dias after semi-final triumph
 "Today I thought we had so many chances, great chances and great moves where we got ourselves into the box and we did the job at the end of the day.
"Playing in these big games is something I thrive off, definitely the team thrive off it.
Without question, Stones has been one of Pep Guardiola's standout performers in recent weeks, but it still came as a surprise to see him open the scoring.
It was the England defender's first goal for City since November 2017 but, as he was keen to stress, it does not matter how they go in.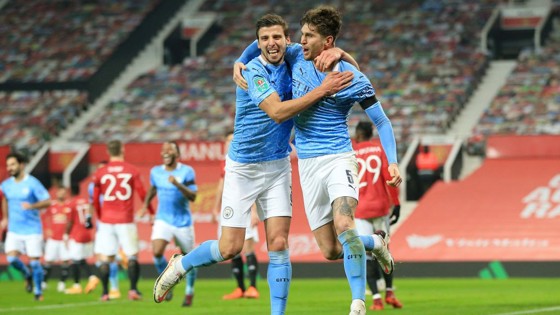 "I was just trying to follow the ball in, I couldn't see the line of the ball, they held a high line" he admitted.
"We practice on (set pieces) in training and we know how vital they are in big games, so just to get something on it was great.
"I'm just working hard trying to play as many games as I can, play as well as I can and give everything for the team and everything for the shirt".
REPORT: Derby win sends City in fourth consecutive Carabao Cup final
It was a display of genuine quality, guile and character from City on an emotional evening following the passing from club legend Colin Bell earlier this week.
And Stones was quick to dedicate the derby victory to the King of the Kippax.
He said: "I think how we played today was a reflection of him, a great moment for us and I'm sure he's looking down on the game today.
"I'd like to send our condolences from everyone in the dressing room at Man City to Colin Bell and his family."