John Stones says Bernardo Silva is just as popular among his team-mates as he is with City supporters.
The 27-year-old Portuguese playmaker has been the beating heart of the City team for the past five seasons, clocking up 251 appearances and scoring 48 goals.
During that time, he's won 10 domestic trophies with the Club, with his energy, work rate and technique making him one of the best players in European football.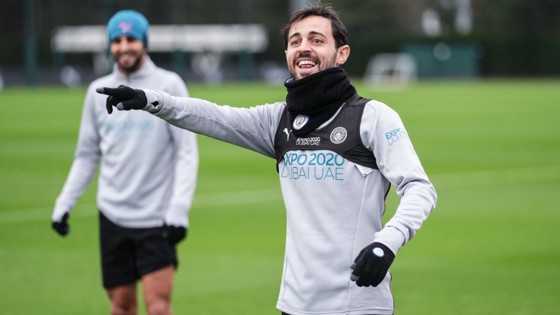 Bernardo is a huge crowd favourite, and Stones says it is no different in the dressing room.
"I think he's such a good soul," said Stones, who was speaking at the premiere of Together: Champions Again! – a unmissable new seven-part documentary series which takes fans behind the scenes throughout the 2021/22 campaign.
"He's always happy, he doesn't take himself too seriously and he's always up for a laugh, always smiling and he's an incredible player.
"I think he just picks and chooses when to be involved and when to have a laugh.
"Why is he so loved? It's a hard question to answer when someone is so liked and valued within our squad, he just has so many good qualities and everyone clicks with him."
And Stones gives an example of his team-mate's mischievous nature, revealing Bernardo had promised to name his dog John when he eventually got one – and did exactly that when he did!
"Bernardo was always joking in the dressing room about wanting a dog and telling everyone 'I'm going to call it John Stones' and I said why?" he said.
"So, he said, 'So I can say 'John, come here now!' It's definitely to wind me up. I see it as a positive that it must mean he likes me!"
The first episode of Together: Champions Again! will be released on CITY+ and the Club's Recast channel at 18:00 (UK) on Wednesday 27 July, with the remaining instalments to follow in the coming weeks.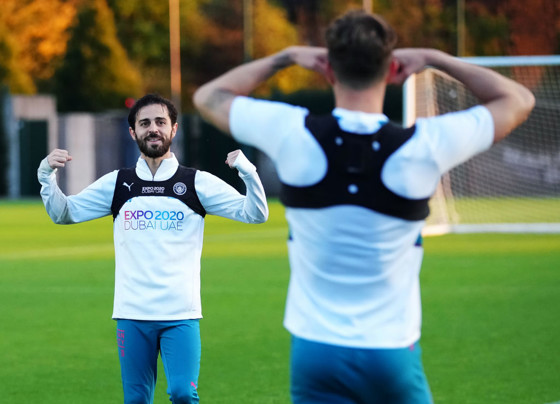 Stones says his close friendship with Bernardo is part of a wider camaraderie the City players share – a togetherness that, coupled with a relentless winning mentality, has been the bedrock of the Club's many successes over recent seasons.
"We spend that much time with each other sometimes we're glad to see the back of each other!" he joked.
"The bond is special though and that's why we've been so successful on the pitch all the time I've been here.
"We've been competing, challenging, winning – always ups and downs but we're there to fight together.
"I think that does start with the dressing room and the tough times we go through make you realise what our responsibilities are and what we're fighting for.
"We can pick a player up if he's having a tough time, on or off the pitch, and that's great. It's special to have that in a squad."
And Stones believes the summer arrivals will quickly blend in to the squad and strengthen the group for the coming campaign.
"I'm always confident we can be successful," he said.
"Whoever has come in, they have always been great from the start.
"We obviously spend that much time together and get to know people on a personal level first and then we go out on the training pitch and see what they can bring and the quality they have.
"Whoever has come in has stepped up and played different positions. It's sad to see people go, whether it is retirement or wanting a new challenge and that's hard because we have so many good friends and good memories on the pitch, but we won't forget those.
"You kind of don't want that to end, you want those memories.
"But that's football, there is always new people coming in and it is credit to the backroom staff and people involved in recruiting that the character fit of players that have come in do so well in the team."
A CITY+ subscription costs £2.99GBP per month and includes live streams of selected Women's and Academy matches throughout the season, as well as full-match replays and exclusive City Studios originals.
Find out how to subscribe, here
The official Man City Recast channel offers fans flexible, pay-per-view live fixtures and on demand viewing options including the full back catalogue of City Studios Originals, match action from across the years, legend interviews, Best of Series and Man City Esports.