Joe Hart says the emotional rollercoaster of City's 2011/12 title triumph against QPR left him drained and almost numb on the day.
The former City and England No.1. now with Celtic, was a huge crowd favourite during his 10 years with the Club.
Interviewed as part of the CITY+ 93:20 documentary, Hart admits he felt and empty and lost as City went 2-1 down and into added time having seemingly blown the chance to make history in one of the most dramatic Premier League finales of all time.
"It was quite sad, and I remember saying to myself, 'So this is how it finishes? This is your input in the year that we might never win it', said Hart.
"After having nothing to do in the first-half to literally having to fish the ball out of the net twice in the second-half with the stadium becoming deathly silent behind me.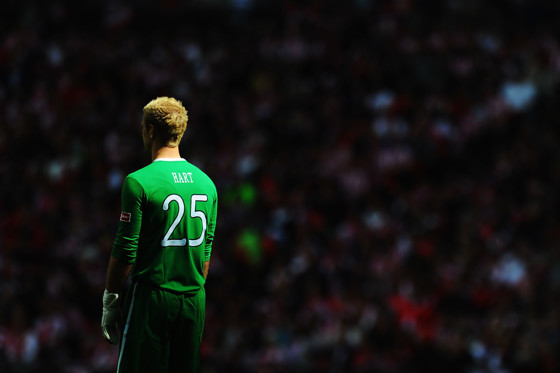 "I became a bystander to what was about to unfold. The last 10 to 15 minutes of normal time were just sheer frustration.
"I was as helpless as the City fans in the crowd."
Of course, two goals in the final four minutes or so of added time changed everything and set the Club off on an incredible run that would see six titles in 10 magnificent years come back to the Etihad.
In the immediate aftermath, however, Hart admits he was mentally and physically running on fumes.
"Emotionally, I wasn't there," he said.
"I don't mean it mentally scarred me, but I just wasn't able to take it all in.
"I was happy, excited and the champagne was flowing because we'd just won the Premier League, but stuff passed me really quickly, but what can you do?
"You can't play it back, but I'm ridiculously proud to have been part of it - it was just hard to take in for a normal guy who just loves playing football.
"Being part of that emotion… that madness. I'm just glad I was on the right side of it!
"It was class. I look back at pictures of that moment with great pride and it was just a really fun time to be alive."
Hart's relationship with the City fans has remained strong since his departure.
And he says the supporters deserve nothing less than the kind of success the Club has enjoyed over the past 11 seasons.
"Manchester City have always had and always will have amazing support," he said.
"That's the thing about City supporters.
"Back in 2011/12, we'd given the impression that we were going to be strong title contenders – but that had been taken away by some of our performances on the run-in.
"But a real Manchester City fan isn't bothered by that – and where the club finish in the league is immaterial because they will proudly tell you that they were following their team in the third division.
"They just want to see people throwing their bodies on the line, just as they would do for their club if they had the chance."