Ilkay Gundogan is hoping he and his Manchester City teammates return from the upcoming international break in a healthy condition ahead of our crucial end of season run in.
Gundogan spoke after City booked a place in the FA Cup semi-final after defeating Everton 2-0 at Goodison Park thanks to goals from the German midfielder and Kevin De Bruyne.
DOWNLOAD THE OFFICIAL MAN CITY APP
The victory means City still remain in all four competitions heading into the business end of the season - and Gundogan hopes he and his teammates all return from the upcoming international break unscathed.
"I think the next target is too come back healthy and in the best shape from the international break because everyone is struggling," he said. 
"It is not going to be easy, and we then have a big game against Leicester next."
City left it late to secure yet another trip to Wembley next month for the semi-final of the competition, as Gundogan headed in the opener five minutes from time, before De Bruyne wrapped it up with a second in the closing moments.
Speaking about his goal, Gundogan said his thought process was to be in the right place at the right time.
"I just tried to be there waiting for the rebound and the timing was perfect," he said. 
"I was a bit scared when that I would hit the ball over the bar so thank god it went in!"
That goal now extends the midfielder's impressive goal-scoring record to 16 this campaign.
Despite his impressive string of personal performances, Gundogan believes his and City's rich run of form is a team effort.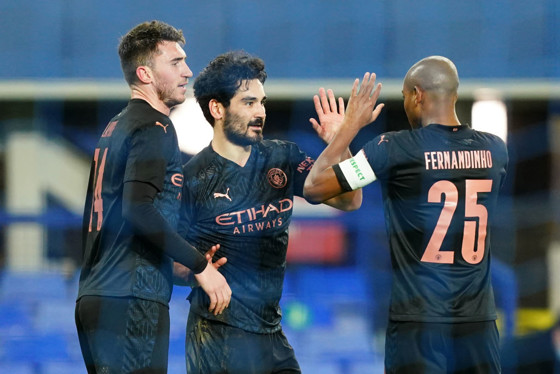 "I am enjoying it of course, but everyone does," he said. "Everyone puts in the hard work and we knew it was not given so we needed to make the right effort.
"These kind of games are very tough so we knew it would be a struggle, but we overcame and did really well."
There is no doubt the victory over the Toffees was a hard-fought one for Pep Guardiola's side, after a resilient Everton defence frustrated City for 85 minutes.
As a result, Gundogan only had words of praise for our hard-working opponents after the full-time whistle.
"I think we struggled to find the right spaces in the first half," he said. 
"We were not all together in the right positions and Everton defended really well, really aggressive and they are a great team."
Despite being held out for the majority of the cup tie City's dominance was finally rewarded late on, and the German midfielder believed this patience from Guardiola's team was the key to our quarter-final success.
"Sometimes we do not get to play the best football or the most attractive football but it's about finding the right moments, being patient.
"There will be a few more games like this so it is good practice from this one."
City join Southampton in the semi-final, whilst Chelsea face off with Sheffield United and Leicester City take on Manchester United for the final two vacant spots tomorrow.