Erling Haaland says his main aim at City is to help the team win trophies and enjoy himself.
Our new No.9 was greeted by an estimated 10,000 City supporters at the new signings welcoming event at the Etihad on Sunday afternoon.
With blue skies and scorching heat, Haaland was introduced to the fans who chanted 'We love you Haaland, we do!'
The Norwegian was delighted with the reception and later spoke at a press conference where he was asked his thoughts on the season ahead.
"It's a big challenge," said Haaland.
"It's a new country, new league, new coach… new everything. I know how it is to come to a new club, I have done it a couple of times before."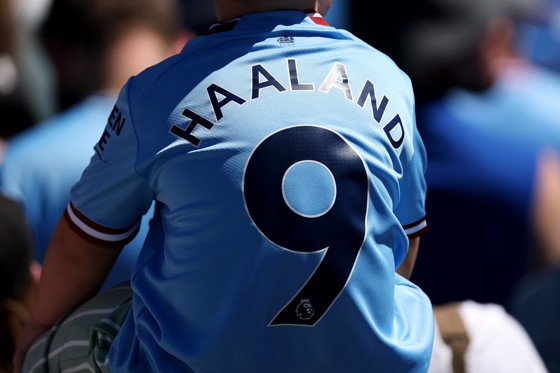 Asked what City fans should expect, he said: "A player that smiles a lot. Works a lot and enjoys the game a lot.
"Like I have been doing my whole career, I will try to enjoy every moment and not to think too much.
"Overthinking is not a good thing. I try to relax when I can and work hard.
"Hopefully I can bring some more quality. With me as a striker, I want to have fun. When I have fun, I score goals and enjoy playing. I hope to smile a lot."
On his rapid progress as a player, Haaland was asked if he felt he was ahead of progress in his career so far.
He said he felt things had gone well and said the support he had around him had helped guide him and make the right choices.
"It was a big step going to Molde, Salzburg, Dortmund and now City," he said.
"I have been thinking through a lot of things every time. I have signed a five-year deal, so we have to start there.
"We have been doing every step perfectly. I have a good small team around me. Really good friends from my hometown.
"They push me when they should push me and stop me when they should stop me. I have a really good team around me."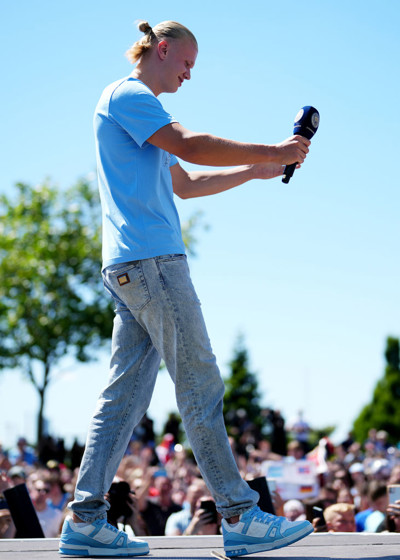 The Norwegian goal-machine also revealed how playing against City when he was a Borussia Dortmund player proved an enlightening experience!
"I played against City, and you see something on TV, but when you meet it in reality it's completely different," he said.
"I didn't touch the ball for 25 minutes!
"I was like, 'please Gundogan stop playing tiki-taka!' It's a different level how City create chances. That's what I want to be a part of."
And on choosing City for his next club he said, "I had a feeling in my stomach. The way they play. I had the feeling for City.
"There are so many good players. It's a huge potential. City are already winners and it's already a huge potential. I am really excited.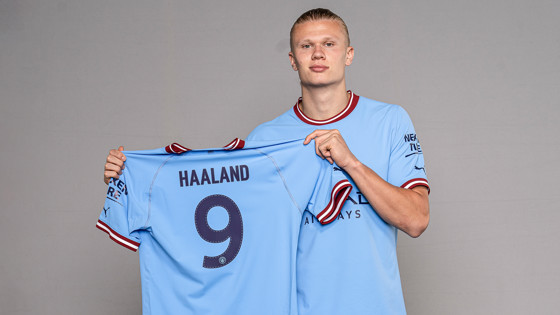 "Every footballer wants to win trophies and become better every single day.
"Sometimes I see players pose with a trophy and I say, 'I would love to be you'. Let's keep working hard and hopefully I will win some trophies.
"I said it before, Champions League is my favourite competition."
Asked which areas of his game he could improve, he said, "Everything! Headers, shooting, off the ball, left foot, right foot…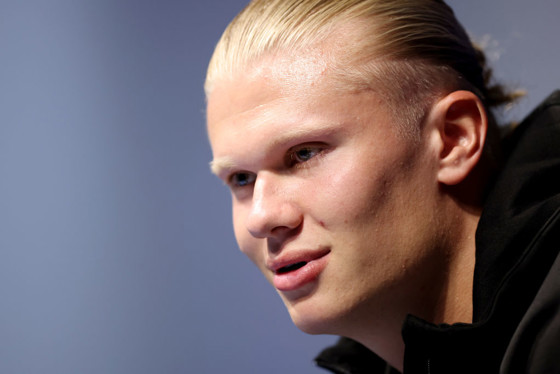 "It's about being myself. I want to connect on and off the pitch (with my new team-mates).
"We have to get to know each other. That's what I did when I came to Salzburg and to Dortmund.
"In Dortmund it worked really well with Jadon Sancho straight away. In my debut, he assisted me one minute into the game."
Haaland's response to whether he might have a similarly profitable relationship with Kevin De Bruyne was: "I hope for him he will get more assists this season.
"My hope for the season? To enjoy. The most important thing is to enjoy."