Erling Haaland expressed his joy after scoring twice on his debut to help City to a 2-0 Premier League victory over West Ham United.
The striker opened the scoring at the London Stadium, winning and converting a penalty after 35 minutes.
He doubled his tally just after the hour mark, coolly slotting in after an accurate Kevin de Bruyne through ball.
The Norwegian was delighted with his Premier League debut and insisted that there's still a lot more to come.
"It was good. [It was a] good start there is nothing much to say other than that and it was 2-0. Good start," he reflected.
"It was good to get some minutes in the legs, it's still early in the season and we have to keep going.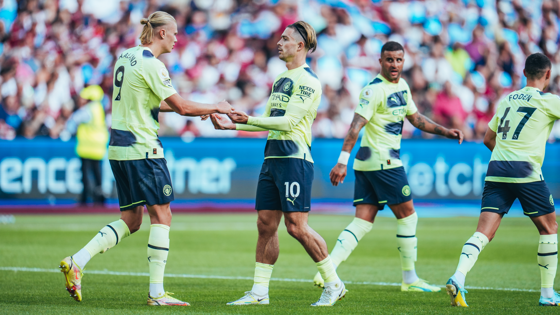 "As expected we saw the potential already against Bayern [Munich in pre season] and it was a little bit down against Liverpool. It will come with games, the passes will come, it should have been more today. A good start."
Haaland almost completed a hat-trick shortly after his second goal, but his header from Jack Grealish's powerful cross went over the bar. 
The striker believes there could have been more goals and also noted his delight that his dad, City legend Alfie Haaland, was present to see his brace.
"Yes. If you saw the Gundogan moment I should have been there [to connect with Ilkay Gundogan's cross]," he admitted.
"It's about the connections we do everyday in training and practicing so we get better and this will come even more, so I'm not worried.
CITY+ | SIGN UP TO ACCESS EXCLUSIVE CONTENT
"There were some good celebrations so I'm happy. Nice that he [Dad – Alfie] saw both goals as it is a big moment for me as a debutant in this competition. We have to keep going.
"Also now it is almost 30 minutes since I scored the last goal so I have to keep going."