Erling Haaland has expessed his elation after finding the net five times during the 7-0 (8-1 agg) UEFA Champions League last-16 victory over RB Leipzig.
The Norwegian struck a first-half hat-trick under the floodlights at the Etihad Stadium and then added a double shortly after the interval, with a sublime Ilkay Gundogan goal sandwiched inbetween.
Kevin de Bruyne added a seventh by firing into the top corner deep into stoppage time, as Haaland became just the third player in history – and the first for nine years – to score five goals in a single Champions League game.
Our number nine has now also scored 10 goals in the tournament this season, the most by a City player in a single season in the competition.
"It's a big night," he declared after the game. "First of all to play in the Champions League, I'm proud to play in it.
"I love this competition as everyone knows. Five goals and to win 7-0 at home, I'm so happy.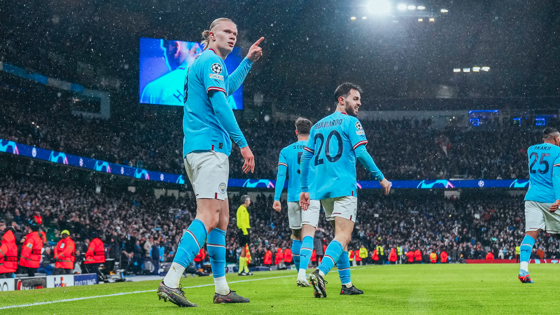 "I'm a bit blurry in my head so I don't remember them all, I was just shooting! I was so tired as well after the celebrations.
"I think after scoring five goals, I have to say scoring goals [his biggest strength]. A lot of goals today I did not think, I was just doing it.
"Same with every goal, I didn't think. A lot of it is being quick in the mind and putting it where the keeper is not. A lot of it is in the head I think.
"I told him [Pep Guardiola] when I went off, I'd love to score a double hat-trick - but what can I do!"
The 8-1 aggregate victory over the Bundesliga side means we have qualified for the last eight of the Champions League for the sixth successive season.
The 22-year-old forward now has 33 goals in 25 Champions League games, reaching the 30-goal milestone in fewer matches than any other player in the competition's history.
CITY+ | SIGN UP TO ACCESS EXCLUSIVE CONTENT
The UEFA Player of the Match enjoyed the team's more direct and aggressive attacking approach at the Etihad and is hoping for more of the same.
"We worked on the pressing yesterday," he said. "Especially at home and every game, we have to put pressure and run. We are so good at winning the ball back. It was part of the plan.
"I think we can use this [direct passes] more of course. When we do this then people drop back more then more space for the smaller guys to play in between.
"From last year to now we can play a bit different with a striker in behind. That's what I'm trying to bring."