Pep Guardiola says he is delighted to be in with a chance of three major trophies this season.
City are in pole position in the Premier League going into this weekend, as well as in the semi-final of the FA Cup and quarter-final of the Champions League
It means a packed April and potentially busy May, but Guardiola couldn't be happier.
"It's an incredible privilege to be here," he said.
"It's not the first time we've been here… we've been here before.
"It means we are there and it's a dream to be here, and we'll try to make the dream come true.
"What do we have to do? (Focus on) Burnley.
"Then after a short time we prepare Atletico.
"I saw them, but not much; I will start on Sunday and Monday to give to the players what we will need to face this team but it's Burnley now.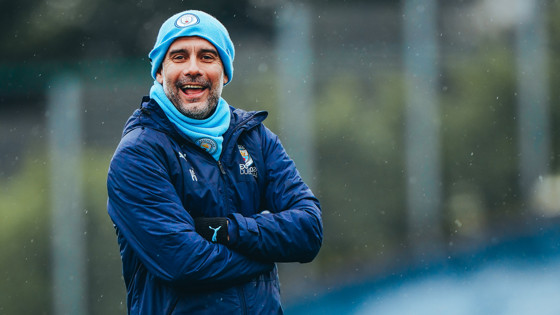 "Then, after that it is Atletico then after Liverpool then Atletico again, and we will see what is in our performance and how is the situation for each game.
"We are going to try to do it.
"It doesn't matter what happens especially in Premier League when we still have eight or seven games to play; the Champions League is different because it's a knockout, and then it's FA Cup after Atletico Madrid away, so we will see.
"It's so nice to be here, I love it, I like it and we will try to compete like we have so far."
One player who will be key to City's challenge on three fronts is Raheem Sterling.
The boss was asked how important it was that Sterling captained and scored for England ahead of this crucial stage of the campaign.
"I can imagine how proud he and his family must be, to play for the country where you grew up, and for the fact that it's the next step," said Pep.
"He's been a long time in the national team and for Southgate he's a key player, important with his contribution in goals and assists is always there.
"He scored the first goal against Southampton in the FA Cup and in the last game for England, so yeah, of course it's good."