Pep Guardiola admits an already formidable Chelsea side are even stronger with record signing Romelu Lukaku leading their line.
Lukaku re-joined Chelsea for just shy of £100million in the summer and has already made a sizeable impact in the opening weeks if the new season.
Guardiola knows what a threat the Belgian presents, but also added he is not unhappy he couldn't bring a new striker to the Etihad this summer.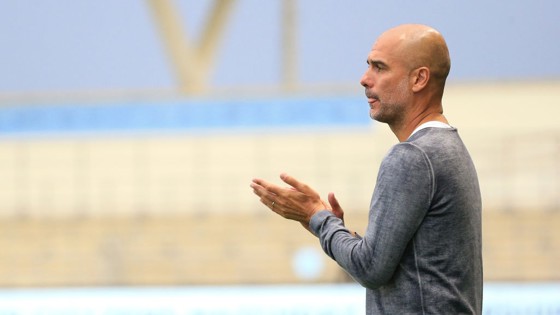 "I am not going to deny what a player Romelu Lukaku is," said Pep.
"He knows the Premier League. He was at Chelsea, made a step forward at Everton, then United and Inter Milan where Antonio Conte has the ability to improve every player who works with him.
"The way he supports and allows you to play balls between the lines means they are stronger than last season, but this is a challenge.
CITY+ | SIGN UP TO ACCESS EXCLUSIVE CONTENT
"I am not sad or disappointed about our squad. We won the Premier League, the Carabao Cup and reached the final of Champions League.
"When our squad is fit - all of them - I know what we can do because I have seen it in previous years, it is a privilege to go to London and play there and then Paris.
"You will not hear me one single second complain about this season or about the players I have.
"These players have helped this Club take another step forward.
"I am fascinated by their training, their commitment. And we try again and if the opponent is better, I congratulate them.
"Defeats make you improve. There's always a new challenge and a chance to be better." 
Asked whether new strikers coming in can sometimes be the difference in marginal games, the City boss replied: "I completely agree. Strikers are strikers. They live outside of the bubble a team creates.
"They say 'I am here to win the game'. We had privilege to have Sergio. These are the hardest players to take.
"For a year and a half we didn't have him, when we did we had extra. We don't have this weapon like other teams have, like United, Chelsea or Tottenham - we have to use what we have as a team.
"We don't have a player who scored 25 goals himself. We do it as a group and that is what we will try this season."
The boss was also asked if there had been any special preparations given the run of games coming up – but said there was no need. 
"It's not necessary to say 'enjoy' because I see the way they prepare," said Pep.
"We didn't speak for one second about PSG or Liverpool in the days since Carabao Cup - we prepare for Chelsea and that's all. 
"The schedule is the schedule. We could be playing other teams. They decide the games. We are the champions. So I say, 'accept it, adapt it and go for it.'"