Pep Guardiola has praised Fulham boss Scott Parker as part of a 'new generation' of English managers.
The City boss says a new batch of young, talented managers are taking a bold step forward, to play in a courageous, attacking way.
He believes it is changing the mindset of how the game is played in this country and believes football is all the better for it.
"Since day one, they have Fulham have played incredibly well," said Pep.
"They were relegated with Scott at the end of the season and after that, they were promoted.
"In English football, there are incredibly good managers such as Graham Potter at Brighton and Scott at Fulham.
SUBSCRIBE TO THE MAN CITY PODCAST
"Many of them have courage to play. In my fifth season in England, I have never seen the lower teams with this quality of play.
"We saw it with Southampton. The way they play is incredible. I saw it here with Fulham earlier this season.
"The pace they play with, the organisation - a real tough, tough opponent.
"Even the games when they didn't have success with the results, like Brighton, always the way they played us positively. It's a challenge for us on Saturday."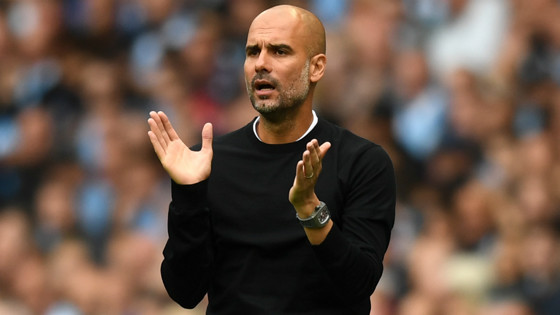 Asked if managers with courage to play with the same approach even when they are near the foot of the table impressed Pep, he said: ""A lot. It is what I admire the most. What I admire is that when it is not going well they continue to do it and at the end the results come.
"They make the sport nice, when both teams want to attack and create, not just wait for one mistake.
"I have the feeling that all the new generation of managers have this quality.
"All the managers in Germany and Spain, play like they manage Bayern Munich.
"Sometimes they cannot do it. You have the idea that you are going to lose a lot of games, but you are going to draw a few games and win the games you need to.
"At the end, the spectators will enjoy it more, advertising will be higher, the TV ratings will be higher."
"If I was a spectator I would prefer to watch the first 15 minutes of the game against Southampton.
"They have the courage to play. That doesn't mean you don't defend. Nothing is guaranteed with 11 players in the 18-yard box that you'll have the success to win.
"Nobody knows that. That's why I prefer it as a spectator. I think all the new generation of managers are saying we'll do our game rather than wait to see what the opponents do."
You can watch exclusive CityTV productions, including the recently released Shaun Goater feature, with a CITY+ subscription.