Looking back at some classic first interviews with City players...
Michael Tarnat was another player many City fans wish had come to the club long before he had. Nearing the end of his career, he was a class act with a thunderous shot on him – for a free transfer, he was terrific value… here is the City Magazine interview from August 2003...
It didn't take long for City fans watching the UEFA Cup qualifier against TNS to work out that new German signing Michael Tarnat is a classy addition to Kevin Keegan's squad. Defenders of his quality become available for free very occasionally at best and he looks sure to become a crucial part of the first team in the coming months.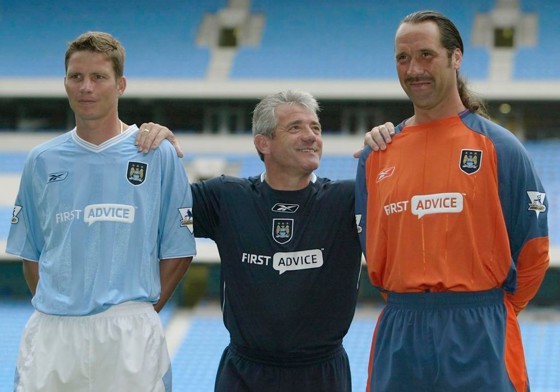 His debut against the Welsh minnows last week was not merely restricted to polished defending – the accuracy and pace of his cross-field passing was quite magnificent and the rapturous reception he received when substituted showed what an impact he'd made on the home support.
A new stadium, new team-mates and a new country – quite a lot for the eloquent former Germany international to absorb in one go and a big difference from this time last year.
"I was thinking that I would play for two more years and then retire," began Tarnat. "Then Munich told me I could go after last season, at least, when I had found another club. Then Kevin Keegan came to me and asked me if I could play for Manchester City and I said 'of course!
"For me it was a dream come true to come and play in England and now my dream is just beginning."
Tarnat is well aware of the strong links between City and Germany. Bert Trautmann, Uwe Rosler, Maurizio Gaudino, Eike Immel and several others have represented the club over the years with distinction and he is keen to join the list.
"I had heard of City and knew of the strong links with my country," he smiled. "There is a great tradition of German players coming to Manchester City and it is a big challenge for me to continue that successful relationship.
"I spoke with the manager before I signed and he told me that he thought my vast experience of European football would benefit the club both in the Premiership and in European football. If I can use the experience I have gained over the years to help my new teammates, it's not a problem. I want to help as much as I can.
Cityzens At Home: https://www.mancity.com/CityzensAtHome
"I think we have a good team, with some great new signings and a very good set of players already here. I think we have a good chance to do well in the Premier League – last season the club finished ninth and I believe we can definitely improve on that and aim for fifth or sixth place.
"As for European competition, we need to learn as we progress and see how far we can go. If we win through to the third or fourth round you would have to say you never know what can happen from there.
"I've enjoyed my first few weeks in England and I like the fact the crowd are so near to the pitch. In Germany we have running tracks around many grounds and most of the stadiums are old. In England, every club has a nice stadium and there are big crowds with a good atmosphere.
"The atmosphere in the City of Manchester Stadium against Barcelona was okay but I think most people were watching the stadium rather than the football! I enjoyed it more against TNS, but I'm really looking forward to the Premiership games because I think it will be much better."
Michael has been compared in some quarters to City coach Stuart Pearce but he says he isn't aware of that, but doesn't mind, all the same…
"I didn't know that!" he laughed. "But it is a big complement for me. I played against him in the World Cup semi-final in 1990 and people in Germany said Stuart Pearce was crazy! However, he is a legend in England and to be compared in any way to him is nice for me."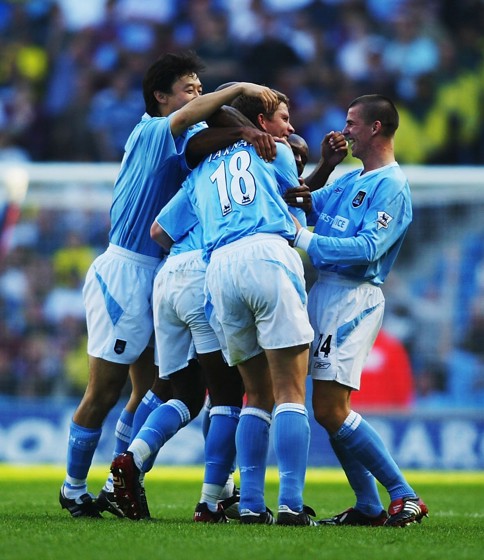 Tarnat believes his English "isn't so good" at the present but he speaks very well and seems very relaxed and settled at the club already. His left-foot thunderbolts have already had the other City players commenting that they wouldn't like to be lining up in a defensive wall with Michael preparing to take a free kick.
All in all, a tidy piece of business by Keegan.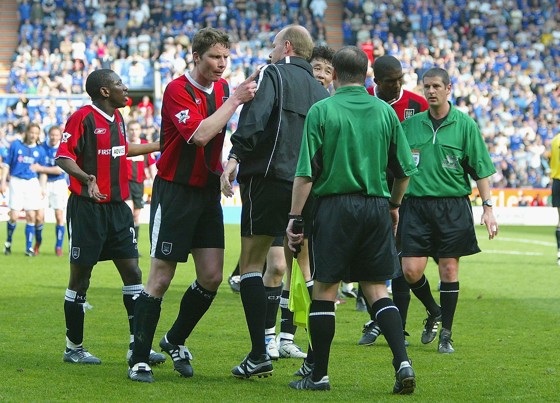 What happened next? Though he arrived with the reputation of being somewhat injury prone, Tarnat had perhaps one of his most trouble-free campaigns while at City, playing 41 games in all competitions and scoring four goals. He was almost 34 when he joined the Club and he was a popular figure among the supporters which each of his four goals pretty spectacular. His first, against Blackburn Rovers, was a stunning free-kick from 35 yards out and he followed up with another left-foot hammer shot against Aston Villa.
City+: https://www.mancity.com/citytv/city-plus
The 2003/04 campaign, however, was a tough one for Keegan's side who flirted with relegation for much of the second half of the season and though safety was eventually negated, Tarnat's time with City was over, with his one-year deal expired and perhaps the itch of playing in England finally scratched. He returned to Germany with Hannover, continuing for a further five years and playing 102 more Bundesliga games and, as aver, chipping in with the odd 'worldy' here and there.
In 2009, he returned to Bayern Munich as part of the youth team set-up where he oversees age groups from the ages of 12 to 16.